Connecting with Microsoft Partners at WPC14
July 21st, 2014 • Comments
Tags: Jabra, Plantronics, Sennheiser, WPC, SP20
We recently had the pleasure of attending the Microsoft Worldwide Partner Conference in Washington, D.C., last week. Our expectations were high, and we weren't disappointed. At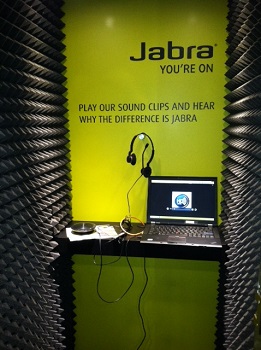 the Monday morning Vision Keynote address, Microsoft leaders articulated the organization's "clear and differentiated vision for the future in a mobile-first, cloud-first world."
Enterprise solutions that are secure, functional and rich with features is what Microsoft brings to the table, and with new ways of offering their software, Microsoft continues to stay at the forefront of its class. The launch and success of
Office 365
, a cloud based subscription suite of office software that makes your business more productive with its Software as a Service (SaaS) approach. According to Microsoft, 60% of Fortune 500 companies have purchased Office 365 in the past year.
Throughout the Commons Expo, networking opportunities were plentiful. Signing up and scheduling meetings in the Connect Portal was another way to schedule networking opportunities. And after-hours parties, sponsored by corporations, was a more informal way to visit with potential business partners.
The headset manufacturers that Avcomm offers each had a presence at the event. Jabra's sound booth invited guests to hear the difference using either a Speak 510 speakerphone or the new BIZ 2300 series headset. Additional headset models were available to play with; Jabra lives by the motto "Devices Make Experiences" and that hands-on availability encouraged visitors to test a variety of devices. Tony Everson, Jabra's Director of Strategic Alliances - Microsoft, was enthusiastic about this year's WPC.
At the Sennheiser booth, the new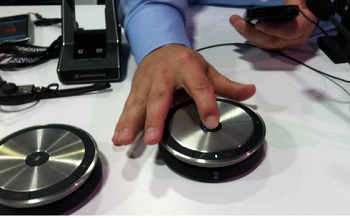 SP 10 and SP 20 speakerphones were prominently featured front and center. Plugging the SP 20 Microsoft Lync certified speakerphone into his cell phone, Area Sales Manager Jon Leighton (Telecom - Northeast) showed off the equalizer function of the device. The solid speakerphone, with stainless steel on its face, is a sleek device with powerful sound.
On Tuesday, Plantronics unveiled a new program at WPC called Plantronics Device-as-a-Service for SMB and mid-market customers to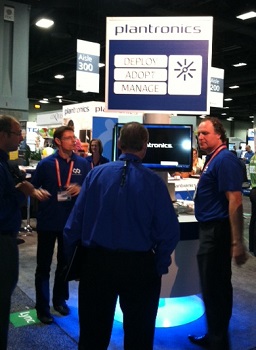 acquire Plantronics solutions along with cloud services. This makes it easy to acquire a complete solution, in a pay-as-you-go manner with 12-, 24-, and 36-month payment options. More information about the program
here
.
One of our favorite finds at WPC was the new Windows Apportals app. With this, we quickly created our very own Avcomm Solutions app! Microsoft says Windows Apportals "allows you to integrate your entire Line of Business (LOB) stack into a single, modern, touch-based experience. The concept behind Apportals is simple – introduce the same nested folder structure common in a desktop OS to the modern mobile OS."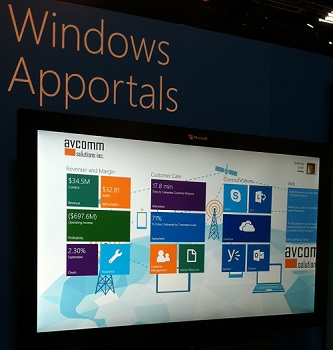 Users can set security levels to provide targeted information for your users.
Next year, WPC will take place in Orlando, a tempting way to mix business along with a family vacation to see all of the sights Orlando offers!
Did you attend WPC in Washington, D.C.? What was the highlight of your experience? You can share your thoughts on the Comments tab at the top of this post.