ANC Headset Compatibility with Desk Phones
February 1st, 2018 • Comments
Tags: Plantronics, ANC, Active Noise Canceling, MDA220 USB, Bluetooth, USB, Desk Phone, Evolve 75, Jabra
"Do you have an Active Noise Cancelling headset that I can use with my desk phone?"
is one of the top questions we've been receiving lately. While all Active Noise Cancelling headsets so far are either Bluetooth or corded USB connection, with the addition of the MDA 220 adapter, employees are able to have the true concentration they need in noisy office environments that still utilize traditional desk phones.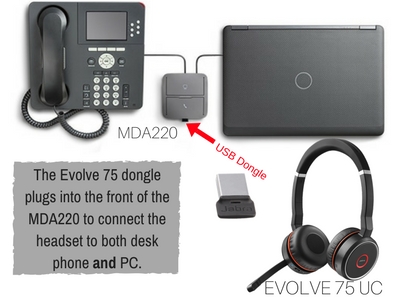 The
Plantronics MDA220 USB
(MSRP: $149.95) is an audio switcher that toggles between desk phone and PC and is great for those who are transitioning to Unified Communications and still need to use a traditional desk phone. It allows the user to utilize the same headset for both their desk phone and PC.
Avcomm has tested this solution and it's one of our top recommendations for customers with this particular need.
How to Set Up the MDA220 USB
Connect the
MDA220 USB
with the two cords at the back of the device: an RJ9 cable to plug into either the desk phone's headset or handset port, and a USB cable for connection to the PC.
The headset, or its USB dongle, connects into the USB port at the front of the
MDA220 USB
. EHS cables and handset lifters can be used with the
MDA220 USB
, to allow for remote answer/end from the headset. That would be an additional purchase, and would need to be compatible with the desk phone it's being connected to.
You can toggle between the desk phone and PC by simply pressing the corresponding icon on the MDA220,which then illuminates solid green to indicate connection.
Recommended ANC Headset Options
The
Jabra Evolve 75 UC
has captivated us with Active Noise-Cancelling in the speakers, a noise-cancelling microphone, comfortable wearability for all-day use, and a hard-sided case for travel. In addition, this headset either comes
with a charging stand
, or without. This is what we use daily at Avcomm, and the set-up that we recommend to customers whose open office environments present a challenge when it comes to concentration and productivity.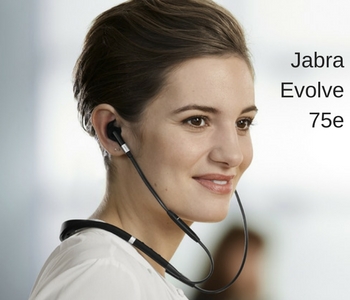 Another great option is the brand new
Jabra Evolve 75e UC
for those who prefer an ear bud wearing style. This headset also features Jabra's excellent Active Noise Cancelling technology, an integrated busylight, and a protective travel case.
Other ANC headsets you may want to consider:
Sennheiser MB 660 UC
Plantronics Voyager Focus UC
Plantronics Voyager 8200 UC
Plantronics Blackwire C725
Ready to embrace a 'cone of silence' with your desk phone? The MDA220 USB, along with an active noise-cancelling headset, will get you there.
This video shows you how to connect the MDA220 USB and a headset to your desk phone and PC: