Open office chaos? How to stay focused
December 11th, 2019 • Comments
Tags: Poly, Plantronics, ANC, Noise Canceling Microphone, Open Office, Noisy Office, Active Noise Canceling, Headsets, Productivity, Voyager, Voyager 8200 UC, Voyager Focus UC, Voyager 6200 UC, Blackwire 7225
99% of workers in open offices are distracted.*
Who wouldn't be, with daily mayhem coming from every direction? Luckily there are plenty of high quality headsets from Poly that are designed to avert open office perils and combat the chaos.
Give your teams the perfect balance of Active Noise Canceling (ANC): not too much to be uncomfortable, not too little to let noise sneak in. Noise blocking microphone technology, too. So people on both ends of a call can hear what matters. Count on all-day comfort, thanks to premium, lightweight materials. And a range of styles that work for everyone in the office.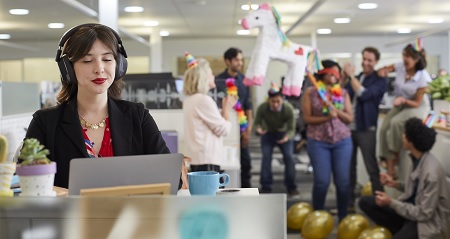 ANC Headsets from Plantronics, now Poly
Voyager 8200 UC
(pictured above) has a boomless mic design, adjustable ANC levels, connects to mobile via Bluetooth, and offers a choice of USB adapter to connect to PC: either USB-A or USB-C. The ear speakers completely surround the ear. Choose between two colors: Black or White. MSRP: $379.95.
Voyager Focus UC
is comfort+: the adjustable sling cushioned metal headband and leatherette ear cushions wrapped around pillow-soft memory foam maintains a secure fit. Available with a desktop charge stand, or without, and USB-A or USB-C. MSRP varies: $279.95 No Stand; $299.95 With Stand.
Voyager 6200 UC
features earbuds on a neckband; wear both earbuds for complete concentration, thanks to ANC, or just one, to keep an ear on the surrounding office. The neckband vibrates as an incoming call alert. Two color choices: Black and Sand; and USB-A and USB-C adapters are available. MSRP is $299.95.
Finally, if your team is primarily desk-bound, and prefer a corded ANC headset,
Blackwire 7225
headsets have a boomless mic design with the call controls on the ear speakers. Blackwire 7225 headsets are available in Black and White, and USB-A and USB-C. MSRP: $199.95.
If your teams are struggling to tune out the chaos of an open office — whether it's scooter rallies or loud talkers or ice chewers — distractions make it almost impossible for people to stay focused. Time to bring productivity back.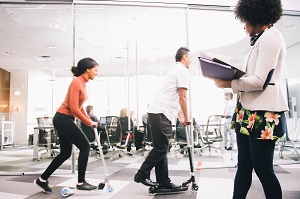 Ready to reduce interruptions and boost productivity? Download the ebook from Poly, here: Perils of the Open Office Ebook and then contact us today for personalized headset solutions: 1-866-998-9991.
*"All Your Employees Are Distracted: The Realities of Today's Open Office and What You Can Do About It," by Future Workplace, April 2019, sponsored by Poly