Jabra CC Agent App for Cisco Finesse
March 2nd, 2017 • Comments
Tags: Jabra, Cisco Finesse, Contact Center, CC Agent App, Biz 2300, Biz 2400 II, Link 260

Are you using Cisco Finesse contact center software with Jabra headsets?
If you answered "yes," then the new
Jabra CC Agent App
is essential for your organization! The app integrates with both Jabra call controllers and Cisco Finesse contact center software. This app eliminates extra steps on the desktop, so that contact center agents are able to completely focus on calls – with the touch of a button. Software offerings such as this continue to push Jabra to the forefront of the headset market, and with its acquisition of VXi, looks to give Plantronics (currently the #1 headset brand in the United States) some fierce competition.
Jabra CC Agent App is a small application that, when installed on the Cisco Finesse Call Center softphone server, enables agents to control these three Finesse softphone features
directly from their Jabra headset control boxes
:
•Ready/Not Ready state (toggle) When changing the Ready/Not Ready state from the control box during an ongoing call, the contact center agent can, after the call, see the Ready/Not Ready state change in the Finesse browser.

•Record Call (if call recording function has been enabled in Finesse). Quickly choose to record the call with the press of a button, which is crucial for sensitive calls and for training purposes.

•Sign off
(Note that only two functions can be available at a time, which are selected by the Cisco Finesse server administrator, when installing the Jabra CC Agent App.)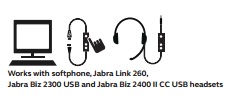 The CC Agent App is compatible with Jabra Biz 2300 or Biz 2400 II headsets, or any Jabra headset when connected to a Link 260.
This software download is FREE and available at Jabra's web site here:
Jabra CC Agent App
.