Why Avcomm Loves Wireless Headsets (And You Should Too!)
April 9th, 2014 • Comments
Tags: Wireless Headset, Jabra, YouGov, Office Workers, Contact Centers
The phone rings. You answer the call. During the conversation, you need to access a file in an office down the hallway. Do you:
a. Hang up on the caller and assure them you'll call back once you have found the file?

b. Ask them to hold; place the handset on the desk, walk down the hall, visit with co-workers along the way, find the file, go back to your desk, and hope the caller is still on the line?

c. Continue the conversation as you walk down the hall, grab the file, and walk back to your desk?


If you have a wireless headset, you can answer "c" with confidence! Corded headsets are the workhorse of the office headset world. Contact centers and offices may find that it's best for their employees to stay close to their desks when on the phone.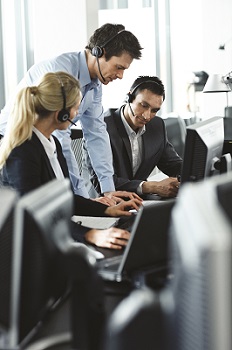 In other situations, and increasingly more common (57 percent in a 2012 study), organizations have found that wireless headsets give workers freedom to conduct their jobs most efficiently and effectively.
Jabra and YouGov questioned more than 11,000 mobile and office workers in 12 countries about their office environments, and which office tools are most valuable for them. The study found that headsets increase overall work efficiency and job performance, with 75 percent of calls being answered when wireless headsets are used.
Workers using the traditional desk phone and handset "say they feel hindered in performing regular office tasks and would have the potential to be more efficient if they were equipped with a headset at work." High sound quality and comfort are key priorities for people using wireless headsets.
Wireless headsets are ideal for employees who need the freedom to roam from their desk without having to miss or terminate a call.
Organizations recognize the benefits of headsets that move with you, enhancing employee efficiency and productivity. Making the most of your time, and money, makes sense for any size organization, which is why we love wireless!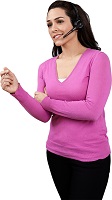 Interested in experiencing complete wireless freedom?
Here's what you'll need:
1. Desk phone, soft phone, or mobile phone

2. Wireless headset – With so many options and connectivity types available, it's important to consult with an Avcomm headset expert to be sure you choose the headset that best fits your environment and requirements.

3. EHS cable or Remote Handset Lifter—This is an optional add-on device which alerts you of an incoming call by sending a tone into the headset. You can answer and end calls by simply pressing a button on the headset, all while being up to 450ft.* away from your desk!
*Actual headset range is dependent upon model of headset and user environment.
If we can help answer any questions you might have about wireless headsets, please
let us know
! Our dedicated team has been trained to discover and suggest the best solutions for your unique needs.