Increase Productivity: Kuando Busylight Displays Your Status
March 5th, 2018 • Comments
Tags: Plenom, Kuando Busylight, Alpha, Omega, Microsoft Skype for Business, Cisco Jabber, Presence Notification, Light Guide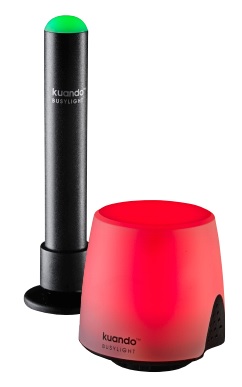 Plenom
, the manufacturer of Kuando Busylights, has revolutionized presence notification with its easy-to-deploy, easy-to-use Busylights (compatible with Microsoft Lync/Skype for Business and Cisco Jabber). Communication is essential with both colleagues and customers – Busylight is designed to help reduce interruptions so you have a better work environment. By deploying Busylights in the office, the goal is to improve your work environment by reducing distractions and creating a less stressful workplace.
The tall, skinny
Alpha Busylight
is perfect for mounting to the top of PC monitors or laptops, while the
Omega Busylight
is a larger light best for mounting on cubicle walls. In addition to being a visual presence reminder, the Kuando Busylight is also a reliable ringer for softphones, making it easy to hear and see incoming calls.
With new technology comes new rules, and Plenom has shared Best Practices for the use of Kuando Busylights:
•"Do-Not-Disturb" mode should only be used for a limited time when concentrating on a project or task. (
purple
)
• Agree with colleagues on what special circumstances make it okay to interrupt in a busy state. (
red
)
• Everyone should not be in a "busy" or "do-not-disturb" state at the same time. (
red
/
purple
).
• Keep your presence set correctly – if back from meetings early change your status to
green
.
Plenom has created handy guides with status notifications, so that everyone using the lights is aware of their meaning.
Email us
if you would like to have these 8 1/2 x 11" guides sent to you.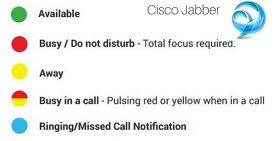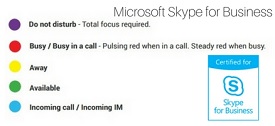 Simple Set-Up
Connect the Kuando Busylight USB cable into a PC, laptop or Thin Client
Go to the Software Download page on the Plenom web site, here: Software Download and select the correct software. Will you be using the Busylight with Microsoft Skype for Business or Cisco Jabber? Or, will you manually change the color of the light? Download the software.
Attach the adhesive magnet or adhesive tape mount to the bottom of the Busylight, and attach the light to a cubicle wall, PC monitor, or laptop.
Kuando Busylights
are one of the best new tools for open offices, UC software platforms, and busy professionals. If you would like to learn more about them, or to qualify for a free trial unit,
contact us
today!