There were 3 posts tagged: Alpha
March 5th, 2018 • 0 Comments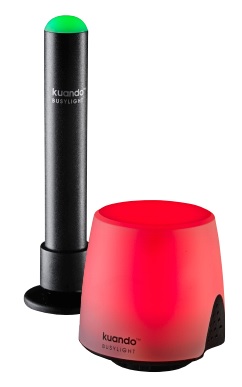 Plenom
, the manufacturer of Kuando Busylights, has revolutionized presence notification with its easy-to-deploy, easy-to-use Busylights (compatible with Microsoft Lync/Skype for Business and Cisco Jabber). Communication is essential with both colleagues and customers – Busylight is designed to help reduce interruptions so you have a better work environment. By deploying Busylights in the office, the goal is to improve your work environment by reducing distractions and creating a less stressful workplace.
The tall, skinny
Alpha Busylight
is perfect for mounting to the top of PC monitors or laptops, while the
Omega Busylight
is a larger light best for mounting on cubicle walls. In addition to being a visual presence reminder, the Kuando Busylight is also a reliable ringer for softphones, making it easy to hear and see incoming calls.
With new technology comes new rules, and Plenom has shared Best Practices for the use of Kuando Busylights:
•"Do-Not-Disturb" mode should only be used for a limited time when concentrating on a project or task. (
purple
)
• Agree with colleagues on what special circumstances make it okay to interrupt in a busy state. (
red
)
• Everyone should not be in a "busy" or "do-not-disturb" state at the same time. (
red
/
purple
).
• Keep your presence set correctly – if back from meetings early change your status to
green
.
Plenom has created handy guides with status notifications, so that everyone using the lights is aware of their meaning.
Email us
if you would like to have these 8 1/2 x 11" guides sent to you.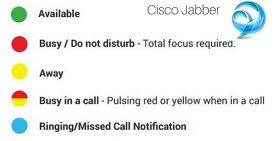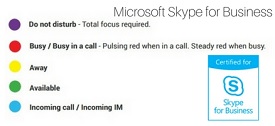 Simple Set-Up
Connect the Kuando Busylight USB cable into a PC, laptop or Thin Client
Go to the Software Download page on the Plenom web site, here: Software Download and select the correct software. Will you be using the Busylight with Microsoft Skype for Business or Cisco Jabber? Or, will you manually change the color of the light? Download the software.
Attach the adhesive magnet or adhesive tape mount to the bottom of the Busylight, and attach the light to a cubicle wall, PC monitor, or laptop.
Kuando Busylights
are one of the best new tools for open offices, UC software platforms, and busy professionals. If you would like to learn more about them, or to qualify for a free trial unit,
contact us
today!
March 8th, 2017 • 0 Comments
A steady uptick in headset use, and the rise of unified communications platforms such as Skype for Business, Lync, Cisco Jabber, (and many more), have contributed to the need for Busylights in office environments around the world, especially in the prevalent open office design.

The
Kuando Busylight
is a 3-in-1 solution:
It rings and flashes on incoming calls preventing missed calls.
It provides visual presence to the open office, stopping interruptions.
The Busylight software (Skype for Business only) provides valuable hot key functions for easy call handling.
Plenom has announced that it recently updated the free software for the Busylights and
KuandoBOX
.
The new software features include:
Mute on Away – When in the 'Away' state, Busylight will not ring – nice for your neighbor!
Brightness Setting – Easily control the brightness of your Busylight
Default volume for Omega will now be set at 25%
Default brightness for Alpha is lowered from high to normal.
What's the difference between the Alpha and the Omega? The
Alpha
Busylight has a smaller profile and features a smart click On/Off system for monitors/ laptops. The
Omega
Busylight has a larger light and is ideally suited for cubicles.
KuandoBOX
unifies your presence by connecting to both desk phone and computer, to update user's status to "Busy" in Skype for Business / Lync when talking on the desk phone.
Download the FREE software on the Plenom website:
Software Download
. Plenom is currently at work on a NEW Busylight for Apple Mac computers. We will let you know when these are available!
March 3rd, 2016 • 0 Comments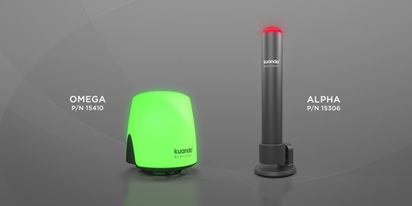 When the Ministry at Foreign Affairs Denmark deployed Lync for 2,400 staff members, they also provided their staff with Kuando Busylights. The ministry's CIO, Jess Pilegaard, said "Busylight has improved the user experience in Lync. And it has created awareness of the presence concept. Our employees are now more aware of colleagues' availability as well as their own status in Lync."
The concept of presence notification is not new – Mitch Friend of Plenom reports that he has heard of workers using red and green flags or even red and green Solo cups to alert co-workers of their availability; however, with the Kuando Busylight, user presence is automatically updated and is always reliable.
The Kuando Busylight from Plenom provides 3 main functions:
It rings and flashes on incoming calls, preventing missed calls.
The free Busylight software provides hot key functions for call handling.
It provides visible presence in the open office, preventing interruptions.


Plenom offers two Kuando Busylight designs: the
Alpha
(MSRP $44.95) can be attached to a desktop monitor or laptop with the included double sided tape. A magnet, also included, can be used to attach the Alpha to the top of a metal cubicle wall.

The
Omega
(MSRP $44.95) is ideal for a cubicle arrangement, as it has a larger light. It attaches to the top of the cubicle with double-sided tape.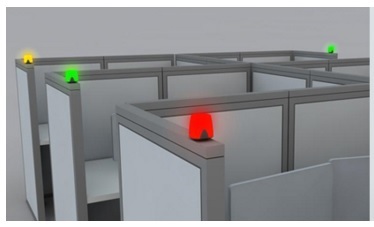 Download Plenom's free software when you're ready to set up the device:
Plenom Software
. This software is used with both Kuando Busylights, as well as the KuandoBOX.
Kuando Busylight supports the colors of Skype for Business/Lync:
Red: On a Call; Do Not Disturb
Pulsing Red: Busy in a call
Blue, Purple or Pink: Do Not Disturb
Green: Available
Yellow: Away/Inactive
There are 8 different ringtones to choose from, including traditional telephone sounds and a dreamy melody called "Fairy Tale." These sounds are built into the Kuando Busylight so there is no conflict with the PC's sound settings.

And, it is easy to quickly adjust the volume of the ringtone. Click on the Busylight icon on your desktop and the menu will pop up (see image to the left). Choose your preferred volume level, or choose Mute to silence the ringer altogether.
Kuando Busylights are currently compatible with Microsoft Lync/Skype for Business and will soon be compatible with Cisco Jabber (March release). System requirements for Kuando Busylight: Windows XP SP3, Windows Vista, Windows 7 or Windows 8; Microsoft Lync 2010/2013 or Skype for Business; .NET 3.5 framework. Kuando Busylight is not compatible with Mac.
The modern workplace can be a very social environment, a positive place for collaborating on projects and supporting comaraderie; however, studies show there is a loss of productivity in open offices that can result in employee frustration and stress. The chance for uninterrupted work time is greatly reduced when barriers such as walls and doors are removed. With the proliferation of Microsoft Lync/Skype for Business, as well as the pervasive open office environment, workers are exposed to interruption and missed calls. Plenom has provided the perfect solution with the Busylights: Alpha and Omega. A one-year warranty gives you peace of mind.
If your staff has complained that they can't focus on their work; they don't hear calls or IM notifications on Skype for Business/Lync, then Kuando Busylight is the right solution for you. Give us a call and we can choose the best Busylight for your office environment!