Poly Elara 60 Mobile Collaboration Station
October 17th, 2019 • Comments
Tags: Poly, Plantronics, Elara 60 WS, Elara 60, Desktop Collaboration Station, Mobile Phone, Speakerphone, Wireless Charging, Voyager Focus
Workplaces and work styles are continually evolving: it's estimated that 36% of workers rely on their mobile devices for day-to-day communication. The convenience of working anywhere is a key benefit of mobile phones; yet, when you're in the office, a single place to charge the phone, charge and store a headset, or even use a speakerphone, can be a real productivity boost.
For the mobile professional, Poly (Plantronics + Polycom together) has designed the Elara 60 mobile phone station. The Elara 60 series will offer a variety of configurations. The first two are the Elara 60 WS for Voyager Focus headsets. Available both
with the Focus
, and
without the Focus
(if you already own the headset), the dedicated headset hook provides a place to store and charge the headset. The Elara 60 WS offers wireless charging and a speakerphone. Other Elara 60 variants will even have a traditional phone handset.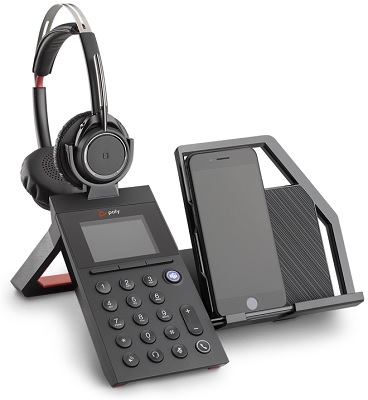 Experience the convenience of a desk phone, along with some extra features of a headset charger, mobile phone charger, and a speakerphone.
It's easy to set-up:
Plug in the included power supply, and pair your mobile phone. If you have your own headset, you will need to pair it with the Elara 60, following the easy directions on the Elara screen. It is not a touch screen, so the buttons directly below the screen will help you to navigate through the menu.
It's easy to use:
Seamlessly transition between mobile and desk phone setups to ensure important conversations are never disrupted. There are large buttons on the dial pad and a nice-sized screen that's easy to read.
It's built for Microsoft Teams:
Press the Teams button to launch Teams on mobile, and manage video, chat, and audio conferences. The button flashes if you've missed a call or have a voicemail. For video calls, the adjustable platform lets you change your camera angle, for the best possible angle in your video meetings.
It has its own app:
With the Poly Elara app, it's possible to customize settings, update Elara 60 firmware, and a handy User Guide for reference.
Watch our overview of the Poly Elara 60 WS below, and learn how its desktop-like convenience make it the ideal collaboration tool for your mobile workers.
Our team delights in finding the best communication tools for your unique environment and needs. Contact them today at 1-866-998-9991, on Chat, or email.