There were 5 posts tagged: Mobile Phone
March 8th, 2021 • 0 Comments
Our team recommends Jabra Evolve wireless headsets for a variety of reasons,
and most especially for the superior Active Noise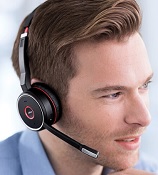 Canceling (ANC) found in the
Evolve 75
. This is our go-to headset for working in the office, working from home, and traveling. Yet, this is just
one
of the many reasons why we like Evolve wireless. The portfolio accommodates a variety of wearing preferences, from true wireless to the traditional over-the-head headband. All of these Evolve headsets connect to two devices at the same time: both mobile and PC; a
Link 370 USB dongle
is
included
with each of the headsets. Each Evolve carries a two-year warranty, longer than the typical Bluetooth headset warranty of a year or less, and all are available in both Certified for Microsoft and UC variants. To decide which variant you need,
this blog post has the information
.
If you work in a noisy office (or, work at home amidst cute children and pets), Active Noise Canceling headsets increase productivity by providing a "cone of silence" for dedicated work and interruption-free calls. Noise-canceling microphones block background noise so that your callers will hear only you and not your environment. You can wear the Evolve 75 all day — the cushioned rubber headband and large padded leatherette ear cushions provide extreme comfort. Get up to 15 hours of talk time on a single charge. Mute the mic as you lift the boom arm up.
The Evolve 75 also has a charging stand that can be purchased with the headset, or without. If you later decide that you need the charging stand, it is available as an
accessory purchase
. We recommend the version with the charging stand for those who work primarily from their desk. Otherwise, the headset is charged with the included micro USB to USB cord.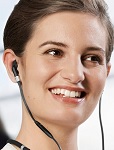 For those who prefer an alternate wearing style with Active Noise Canceling, the
Evolve 75e
is a neckband with ear buds. Wear one ear bud to be aware of your environment, or both earbuds with the ANC turned on for complete concentration. The lightweight design rests comfortably enough that you don't even realize you're wearing it. The neckband will vibrate at incoming calls, so you're assured not to miss anything. A great feature: when the ear buds are together (they are magnetized), your music pauses or your call ends. There is up to 14 hours talk time in this battery life, and a 2-hour time for a full recharge.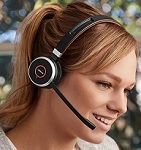 If ANC is unnecessary,
Evolve 65
headsets have three wearing choices. Evolve 65 is the over-the-head headband style;
Evolve 65e
is the neckband with ear buds (similar to the Evolve 75e above, without ANC), and
Evolve 65t
are true wireless ear buds in a charging case.
Evolve 65 offers a choice between mono and duo ear versions, and comes with a charging stand, or without. The Evolve 65 has a smaller profile and ear cushions than the Evolve 75, and is a comfortable option. We like the freedom of a mono Bluetooth headset with a traditional headband style, leaving an ear on the call and an ear on your surroundings.
Jabra Evolve2 wireless headsets
are the latest additions to the Jabra portfolio that you will want to consider.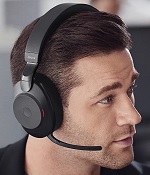 Evolve2 85
are wireless, Bluetooth, Active Noise Canceling headsets with ear cushions that completely surround the ears. The folding mic boom arm is handy when you need it; and when you don't, simply fold it up and store it in the ear speaker. The ear speakers also have microphones, so it isn't necessary to have the mic boom in place, if you don't like that look on Zoom calls, Teams meetings and more. The hard-sided zip case stores the headset, cords, flight adapter, and USB dongle, and if you are part of the current "hybrid work" force, you can easily transport your headset, safely. There is an optional charging stand, if you would like a place to store and charge the headset when not in use. It is available in both Black and Beige, USB-A or USB-C, as well as UC and Certified for Microsoft Teams variants.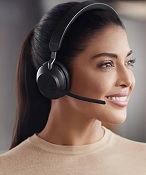 The
Evolve2 65
headsets give you 37 hours of battery life and it takes only 15 minutes to charge for 8 hours of talk time (full charge time is 90 minutes). The soft memory foam ear cushions mold to your ears, for supreme comfort. and the brightly-lit busy lights are integrated into the ear speakers. If you do not need Active Noise Canceling, we recommend this headset, rather than the Evolve2 85. Within the Evolve2 65 line, you have choices: Black or Beige, USB-A or USB-C, UC or Certified for Microsoft Teams, with a charging stand or without the stand.
If you need a recommendation for an Evolve headset that fits your work style, call our headset experts at 1-866-998-9991 or Chat us now.
November 23rd, 2020 • 0 Comments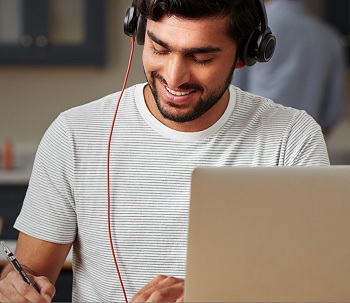 The Blackwire headset series are all-in-one USB headsets from Poly, and have been a standard for office workers who need a high quality headset with great sound. The series continues to transform with the latest technology available, as well as premium design and connection features.
The new company name,
Poly
, is the result of Plantronics and Polycom joining together. Poly, which means "many," leverages the legendary audio and video expertise of Plantronics and Polycom and its breadth of smart endpoints that connect across and between unified communications platforms to reduce the distractions, complexity, and distance in the modern workspace.
All of these Blackwire headsets offer a two-year warranty, connect via USB or USB-C (learn about the latest USB connection type,
here
); and most come with carrying cases for storage and protection during travel. The Certified for Microsoft Teams headsets seamlessly integrate with Teams and offer headset control functionality. They also meet the Microsoft Teams Open Office certification levels.
8225 Series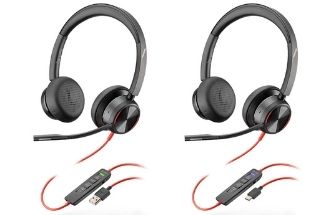 If you're working from home and need to block out the sound of family members moving around you, the technology in Blackwire 8225 headsets have you covered. The noise-canceling microphone with Acoustic Fence technology puts you in a quiet office, even if you are not. Hybrid Active Noise Canceling (ANC) makes it easy to escape the noise around you: there are three ANC settings (toggle between Off, Mid, and High levels on the side of the call controller), that help you create the best quiet zone.
This is a comfortable headset. The padded headband has soft leatherette ear cushions, with adjustable headband and 180-degree pivoting speakers to easily fit all users. We also like the status indicators (busylights) in the ear speakers that alert others when you are on a call. These two LED indicators keep you distraction free.
Blackwire 8225 USB-A
Blackwire 8225 USB-A Certified for Microsoft Teams
Blackwire 8225 USB-C
Blackwire 8225 USB-C Certified for Microsoft Teams
7225 Series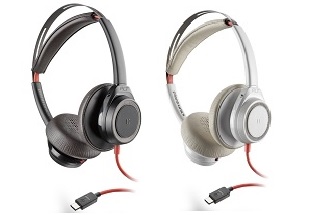 These headsets have a unique boomless mic design: the first of its kind in the corded headset market. As collaboration increasingly takes place via video, there was demand for a professional corded headset with a boomless mic. It is extremely important to wear the headset with the "R" ear speaker on your right ear, because the microphones are built into the front of the headset's speakers, creating a four-microphone array for best voice pick-up.
The 7225 headsets offer Active Noise Canceling that can be activated when needed. When you need to quickly listen in to your surroundings, push the red Open Mic button found on the bottom of the left ear speaker; and then press it again to return to your quiet headset. Another unique feature in the new Blackwire 7225 headsets: rather than an in-line call controller, all audio and media controls are on the ear speakers.
Blackwire 7225 USB White
Blackwire 7225 USB Black
Blackwire 7225 USB-C White
Blackwire 7225 USB-C Black
5200 Series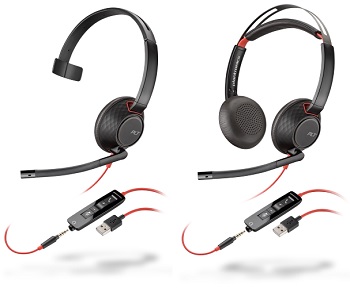 Blackwire 5200 headsets also offer excellent sound - both inbound and outbound - with a flexible mic boom featuring noise-cancelling, so background noises aren't transmitted to your callers. Listening to music is an enjoyable experience with this headset, too.The duo headsets offer a comfortable "sling" metal headband; both mono and duo have large ear cushions made of ultra soft leatherette wrapped around memory foam. This headset is a dream for all-day wearing comfort! All of the variants connect to both USB/USB-C and 3.5mm, which unplugs from the in-line call controller.
Blackwire 5210 USB and 3.5mm
Blackwire 5210 USB-C and 3.5mm
Blackwire 5220 USB and 3.5mm
Blackwire 5220 USB-C and 3.5mm
3200 Series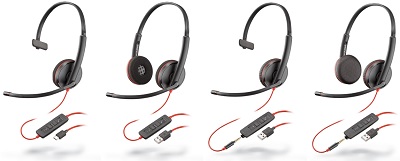 Blackwire 3200 headsets are the entry into the Blackwire world. These are great headsets, and there is some variety within the 3200 line: all of these headsets are available in either USB or USB-C variants; the Blackwire 3215 and 3225 have the additional 3.5mm connection for mobile phone and tablet use. The foam ear cushions on the 3210 and 3220 are lightweight and breathable. The ear cushions for the 3215 and 3225 are leatherette and fold flat for placement in the included carry case.
Blackwire 3210 USB
Blackwire 3210 USB-C
Blackwire 3220 USB
Blackwire 3220 USB-C
Blackwire 3215 USB and 3.5mm
Blackwire 3215 USB-C and 3.5mm
Blackwire 3225 USB and 3.5mm
Blackwire 3225 USB-C and 3.5mm
No matter which Blackwire headset you choose, we recommend that you download the free
Plantronics Hub software
. There are downloads for both Windows and Mac operating systems. Hub software allows you to customize settings and get visible status of your Plantronics audio device on your desktop. It also pushes out firmware updates to keep your headset always up-to-date.
If you're ready for a new Blackwire headset,
contact us
and we'll help you determine the best Blackwire headset for your unique needs.
October 17th, 2019 • 0 Comments
Workplaces and work styles are continually evolving: it's estimated that 36% of workers rely on their mobile devices for day-to-day communication. The convenience of working anywhere is a key benefit of mobile phones; yet, when you're in the office, a single place to charge the phone, charge and store a headset, or even use a speakerphone, can be a real productivity boost.
For the mobile professional, Poly (Plantronics + Polycom together) has designed the Elara 60 mobile phone station. The Elara 60 series will offer a variety of configurations. The first two are the Elara 60 WS for Voyager Focus headsets. Available both
with the Focus
, and
without the Focus
(if you already own the headset), the dedicated headset hook provides a place to store and charge the headset. The Elara 60 WS offers wireless charging and a speakerphone. Other Elara 60 variants will even have a traditional phone handset.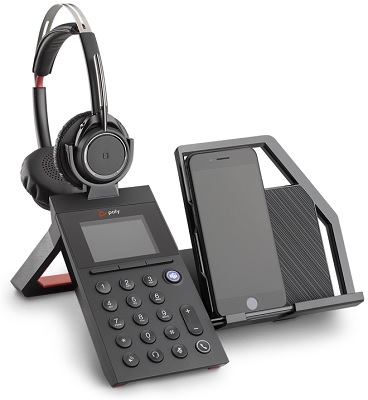 Experience the convenience of a desk phone, along with some extra features of a headset charger, mobile phone charger, and a speakerphone.
It's easy to set-up:
Plug in the included power supply, and pair your mobile phone. If you have your own headset, you will need to pair it with the Elara 60, following the easy directions on the Elara screen. It is not a touch screen, so the buttons directly below the screen will help you to navigate through the menu.
It's easy to use:
Seamlessly transition between mobile and desk phone setups to ensure important conversations are never disrupted. There are large buttons on the dial pad and a nice-sized screen that's easy to read.
It's built for Microsoft Teams:
Press the Teams button to launch Teams on mobile, and manage video, chat, and audio conferences. The button flashes if you've missed a call or have a voicemail. For video calls, the adjustable platform lets you change your camera angle, for the best possible angle in your video meetings.
It has its own app:
With the Poly Elara app, it's possible to customize settings, update Elara 60 firmware, and a handy User Guide for reference.
Watch our overview of the Poly Elara 60 WS below, and learn how its desktop-like convenience make it the ideal collaboration tool for your mobile workers.
Our team delights in finding the best communication tools for your unique environment and needs. Contact them today at 1-866-998-9991, on Chat, or email.
August 7th, 2019 • 0 Comments
Compatibility and comfort rule in the Plantronics Blackwire headsets by Poly. The series is durable, stylish, and lightweight (and the Blackwire 7225 even offers Active Noise Canceling). Plug-and-play with PCs and mobile phones, and you can work anywhere! Learn more about Blackwire, and
Subscribe
to our YouTube channel today.
September 18th, 2018 • 0 Comments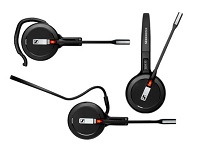 Sennheiser office and contact center headsets are high quality products with premium sound, and the new SDW 5000 DECT wireless series is no exception.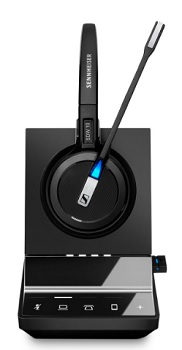 Sennheiser positions the SDW series as future-proof devices with flexibility for modern office professionals in modern work environments.
Density and advanced security are the hallmarks of the series; a high density wide band mode assures excellent sound is possible in high density environments and the protected pairing, 128-bit authentication and DECT security certification keep conversations confidential.
Choose between the
SDW 5015
for desk phone and computer or the
SDW 5016
for desk phone, computer, and smartphone/tablet.
Product highlights:
Remarkable noise-canceling mic:
In our testing of the
SDW 5016
(MSRP: $409.00), we were amazed at the exceptional noise canceling in the microphone. We walked through our noisy warehouse with the normal background sounds of people speaking and a cart being pushed and loaded with products among the shelves, and
the noise was not transmitted to the person on the other end of the call
. This is because of the headset's two-mic design and cutting edge voice-detection technology. If you work in a noisy office, this is the perfect headset.
Warranty:
Sennheiser wireless headsets are covered by a 2-year warranty, double the industry standard.
Videos:
Sennheiser has produced a series of short YouTube videos that cover everything from how to assemble and wear the 3 included wearing styles* (headband, neck band, and ear hook), to how to handle, conference, and transfer calls. Another video highlights the different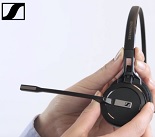 devices (USB and Bluetooth headsets and speakerphones) that can be connected to the SDW 5000 base. These videos are invaluable resources for SDW 5000 series headset wearers, who should bookmark the page for easy access:
SDW 5000 Series Playlist
.
Free software for headset updates:
HeadSetup Pro is the must-have companion software for all of your Sennheiser devices. The FREE software download is compatible with Windows operating systems. Download the software now:
HeadSetup Pro
.
Sennheiser included a built-in triangular busy light on the mic boom that turns Red when busy; Purple when streaming music; and Blue when the headset is docked on the base.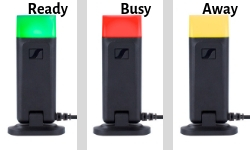 New to the Sennheiser product line is a
Busylight
designed for the SDW series. Connect it to the Busylight port (marked in blue) at the back of any of the SDW base units, and your presence is immediately indentified as Red (Busy), Green (Available), or Yellow (Away). It can be attached to a computer monitor, or placed on a desk. It is UC and Skype for Business certified.
Ready to learn more about Sennheiser SDW 5000 headsets? Give us a call at 1-866-998-9991 and talk to one of our headset experts today!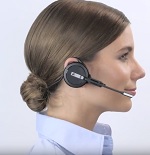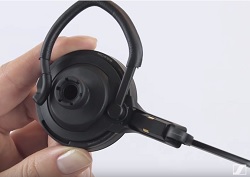 *SDW 5015 comes with the ear hook and headband only; the neck band is an optional, additional purchase.