There were 1 posts tagged: Dispatch Headsets
February 25th, 2020 • 0 Comments
Dispatchers are the unsung heroes in the law enforcement field: keeping their cool in high stress situations while communicating clearly with callers, officers, and more. The equipment must be dependable, and headsets that can toggle between the radio and the telephone keep the focus on the conversation.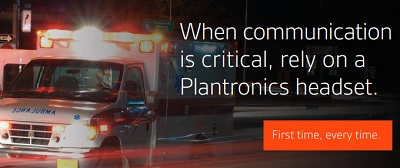 Plantronics is a leader in emergency responder telecommunications equipment, and designs headsets for demanding environments. Their expertise ensures that every product built meets the highest standards of quality and reliability. These devices connect to radio systems, are comfortable enough to wear for an entire shift, and offer premium sound for clear conversations.
Plantronics makes a number of products for emergency dispatchers that are compatible with nearly every major radio console. These pieces are necessary to connect to a dispatch console: Push-to-Talk amplifiers and headsets.
Push to Talk options:
The SHS1890 has a Push To Talk button that allows you to switch between radio and telephone,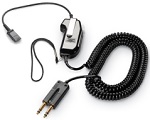 with proper configuration of the console. There are three choices of cord length:
•
SHS1890-10
10-foot coil cord
•
SHS1890-15
15-foot coil cord
•
SHS1890-25
25-foot coil cord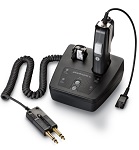 The CA12CD is a cordless PTT (push-to-talk) headset adapter designed to provide encrypted communications and PTT functionality for applications such as Public Safety Dispatch and Air Traffic Control. The CA12CD uses digital processing (DECT standard) and operates in the UPCS band (1.92 – 1.93 GHz) in North America. If you'd prefer a wireless solution, the
CA12CD-S
offers a portable remote unit, with belt clip. It comes with two battery packs and two recharging wells: One for the remote unit and one for the spare battery — allow for 24/7 operation. Volume can be controlled on the CA12CD-S.
Headset options: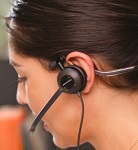 Plantronics headsets, including the EncorePro series and StarSet, are great headsets for dispatchers. The standard EncorePro 500 headsets includes the
EncorePro 510
mono;
EncorePro 520
duo;
EncorePro 530
ear hook; and
EncorePro 540
convertible. The lightweight headsets are constructed with aircraft-grade aluminum joints, yet are sturdy, thanks to laser-welded construction. The noise-canceling mic boom arm is flexible and adjustable to ensure proper placement.

EncorePro 700 headsets are the premium variant in the EncorePro series, which Plantronics calls "the thoroughbred of headsets." In fact, a review on the Plantronics web site from a dispatcher confirms this is a great headset for the job, giving the headset 5 out of 5 stars: "This is the most comfortable & clear sounding headset I have every [sic] had. I've been dispatching for 17 yrs and I love this headset." Leatherette ear cushions, a unique extendable mic boom, and a slim, stylish, elegant design are all reasons to choose EncorePro 700 headsets, either
mono
or
duo
ear.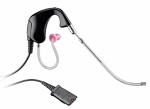 StarSet H31CD
features a unique design, for an extremely lightweight solution. The eartip is inserted in the ear canal, and headset rests behind the ear. The voice tube microphone boom is not noise canceling; extremely busy and noisy dispatch centers will want to use a different headset with a noise-canceling microphone. A review from a dispatcher on the Plantronics site confirms its usefulness: "I have been using this headset for nearly 10 years as a 911 operator; Clear and great tone."
Public Sector Discounts from Poly are available now through September 30, 2020. These incredible discounts on most Plantronics products are available to all State, City, County and Local Governments. Contact us today for your pricing: 1-866-998-9991 or Chat us now!