There were 2 posts tagged: Ear hook
December 21st, 2020 • 0 Comments
Do headband-style headsets give you headaches? Or, do you prefer an on-ear or over-the-ear headset? We are fortunate to partner with brands that offer a multitude of wearing styles sure to meet the unique preferences of many.
Some of our customers like the over the ear wearing style which can be worn on either ear, and have cushions or ear gels that keep the headset secure to the ear. Customers like the versatility and lightweight design, as well as the ease of use. Connection styles vary, either corded or wireless, for truly the most optimized experience for each user.
Here are some choices for corded headsets:

Plantronics StarSet H31 CD
has a small ear tip that is placed directly into the ear canal, and the headset rests lightly behind the ear. The voice tube microphone will be sufficient for those working in a closed-door space by themselves; any background noise will be clearly conveyed to the person on the other end of the line. The headset is shipped with 6 different sized pliable ear tips.
Plantronics EncorePro 530

headset has an ear hook that can be bent to conform to the ear, and can be worn on either the right or left side. The foam ear cushion rests lightly, and securely,

on the ear. Or, if you prefer to have several wearing styles for the same headset, the
EncorePro 540
is a 3-in-1 headset that comes with these wearing styles: ear hook, neckband and headband. It is extremely easy to switch wearing styles, thanks to the design of the snap-on clip.
Here are some choices for wireless headsets:
The
EPOS | Sennheiser Impact SDW 5016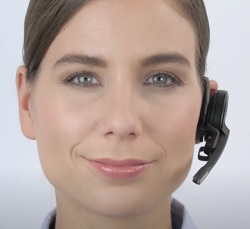 is a convertible headset with triple connection to mobile and desk phone, and computer.

A colleague who uses this headset at her desk has had a positive experience with the SDW 5016, with the headset instantly connecting to the device when needed. A note of caution: she reports that because she has "tiny ear holes" she does not experience a snug fit in her ear (even with the smallest ear tip that is included in the box).
Poly Savi 8240 UC
is a great convertible option if you'd like a wireless headset that has a single connection to a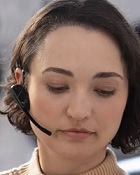 computer.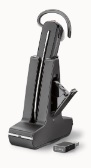 The ear hook wearing style has an ear tip and optional ear loop to secure it to your ear. A headband and neck band are included in the box, too. To further customize the headset, the included Fit Kit card has 4 gel ear tips in varying sizes; 3 different sizes of ear loops; and a fabric piece to slip onto the ear loop for comfort. On a full charge, you get up to seven hours of talk time. If you need extended talk time, the
Savi 8245 UC
includes an extra battery for unlimited talk time. The Savi 8245 UC comes with 2 batteries; the second battery is always charging in the headset base.
We have many other options that may suit your style better; call our Headset Experts at 1-866-998-9991 or Chat us now for personalized recommendations.
January 8th, 2018 • 0 Comments
Choice is good.
The act of choosing, making a decision when faced with two or more possibilities, gives us a sense of control and satisfaction. Life would be pretty boring if there was only vanilla ice cream to eat (and not the 31 flavors of Baskin-Robbins), or we all drove the basic black Ford Model T's. Yikes! Fortunately, we are afforded many choices in not only what we eat, wear and drive, but also in our headsets. Given the personal nature of a headset, which is used for 8 hours a day, 40 hours a week, it makes sense that user preferences are accounted for when purchasing headsets.
Fortunately, headset brands have heard the call, and have answered it, with the wide variety of headset wearing styles that are out there. No longer is it just the one-ear, over-the-head headband style headset. Today, in-ear wearing styles, over-the-ear, behind-the-neck, convertible and yes, the traditional over-the-head wearing styles give users plenty of choices.
First, a look at the variety of styles available.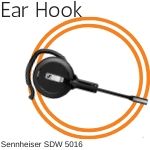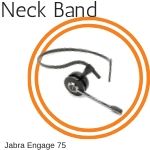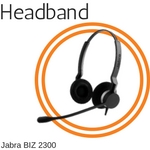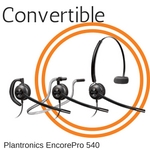 Now, the fun part: choosing a headset.
Ideally, using a headset for a few days is the best way to determine if the headset is right for you. If this isn't possible, the next best thing to do is to consider these questions:
1. Do you mind having something in your ear (ear buds)?
2. Do you wear glasses?
3. Will a headset interfere with your hair style?
4. Do you want to be completely immersed in the call, or do you need to be more aware of your background environment?
5. What is your budget?
Wearing style, of course, is just one of the considerations when choosing a headset. The most important is, what device are you using the headset with? Desk phone, cell phone, tablet, PC/laptop? This is the starting point for each headset purchase. We feel like Oprah when we say: "There is a Headset for Everyone!" because with all of the options available, there IS a headset that you will love.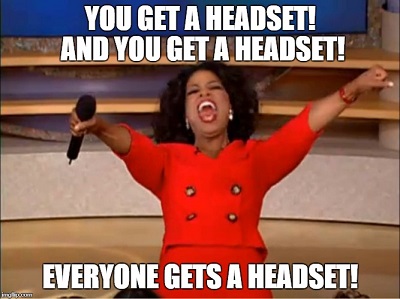 Choosing the right headset is important. We are Headset Experts, and here to guide you through the process. Contact us today to get started on the headset that you will use AND love!