There were 2 posts tagged: WOSB
July 14th, 2016 • 0 Comments
Research supports the finding that today's consumers conduct their own research before making a purchase. A survey found that 60% of a buyer's journey has been completed before they reach out to a company sales rep. With the Internet open 24/7 as the encyclopedia of everything, information is accessible to all – at all times. Resources such as customer reviews, blogs, and web sites can provide a wonderful look into the pros and cons of any product or service.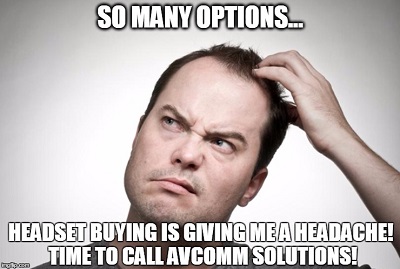 But, when we talk about headsets for business communications, many times the more you try to research on your own the more cumbersome and confusing it becomes. That's why we say "Leave it to the Experts," the Headset Experts here at Avcomm Solutions! Headsets are our specialty and with our high level of product knowledge and support, you are sure to receive what you need, when you need it.
At Avcomm Solutions, our staff availability can be considered as one of the best characteristics of our small, woman owned business. When you call, we answer. The time savings that a call can provide may actually surprise you! If our staff doesn't know the answer immediately, we will find out – and get you the answer as quickly as possible. You can count on us to do what we say we're going to do! Our staff and business has direct connections to our manufacturers. We are certified by our manufacturers in their respective training programs, and know the right people to call for answers. We stay up-to-date on all new issues, promotions, discounts, products, and more – anything that affects our customers, and potential customers. In short, we prefer to be our customers' main point of contact, to simplify the headset process for them.
With our office and warehouse located in the middle of the United States, shipping to locations on either coast is typically 3 days. We offer many ways to place an order, including on our web site, via email, phone call, and in person. The relationships we have with our customers helps keep the order process simple, yet accurate.
Talking through a product question, or environment need, is typically best accomplished with a phone call – and we're here to help. Any question – large or small – has value and we're here to help! Contact us today: 1-866-998-9991. If you'd prefer email, reach us here:
Avcomm Solutions
.
July 29th, 2014 • 0 Comments
Did you know that recently Avcomm Solutions became certified as a Woman Owned Small Business? After opening its doors in April of 2008, our President Susan Mitchell has led the company to continued growth and success; however, the official certification process as a woman owned business was something that remained on the horizon to be accomplished.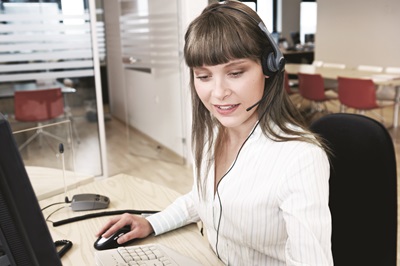 This spring, it was determined that it was time to take the official step of self-certification through the SBA (Small Business Administration). Discovery and gathering of required documentation was the first step to complete the certification. Paperwork, including the completion of the Women Owned Small Business Program Certification, was another step.
"Avcomm Solutions has been a woman owned business since its inception in 2008. In the past 5 years, we were aware that we had missed some sales opportunities with several large corporations, because we lacked the certification required by these companies," Mitchell said. "As part of our strategic planning for 2014, we decided that it was time to move forward with the process of becoming certified. By being a certified woman owned business, we are now able to compete for special opportunities that arise within the procurement programs of the state and federal governments, and through the supplier diversity programs of private corporations."
With the able assistance of some staffers in the Nebraska District offices of the SBA, the final certification process was completed. We are extremely proud of this certification, which states that more than 51% of the company is directly owned and controlled by a woman.
Avcomm is part of this woman-owned movement that continues to grow nationwide: according to National Association of Women Business Owners (NAWBO), more than 9.1 million firms are owned by women, employing nearly 7.9 million people, and generating $1.4 trillion in sales as of 2014. Women-owned firms (50% or more) account for 30% of all privately held firms and contribute 14% of employment and 11% of revenues. Over the past six years, since the depth of the U.S. recession, the only businesses that have provided a net increase in employment are large, publicly traded corporations… and privately held majority women-owned firms. In all other privately held firms, employment has declined over the 2007–2013 period. (These statistics are from
Womenable
.)
The
2014 State of Women-Owned Businesses Report
was recently published by American Express OPEN, written by Womenable. The National Association of Women Business Owners (NAWBO) partnered with Web.com to commission a national survey of NAWBO members.
The findings? Of the more than 5,000 NAWBO members polled, 92 percent say they believe more women will venture out and start their own businesses in 2014. Their own motivations for beginning a business were varied, with envisioning themselves as entrepreneurs and wanting to implement a business idea as the top two reasons given. For their 2014 investment plans, the NAWBO members state Marketing and Customer Service to be of top importance, with Hiring coming in as 4th importance for investment.
This comes as no surprise to us here at Avcomm, as continued growth and increased staff have been a natural outcome of taking the time to build relationships, providing excellent customer service before and after purchase, and becoming a one-stop shop for our customers' audio and video communication needs. By offering the best advice, and the best manufacturers out there, our high quality solutions keep your businesses running efficiently, your employees happy, and your stockholders satisfied!
To view Avcomm Solutions' certification,
please click here.