There were 1 posts tagged: SDW 5015
September 18th, 2018 • 0 Comments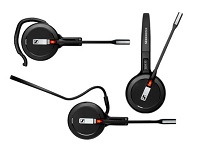 Sennheiser office and contact center headsets are high quality products with premium sound, and the new SDW 5000 DECT wireless series is no exception.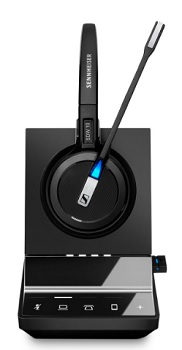 Sennheiser positions the SDW series as future-proof devices with flexibility for modern office professionals in modern work environments.
Density and advanced security are the hallmarks of the series; a high density wide band mode assures excellent sound is possible in high density environments and the protected pairing, 128-bit authentication and DECT security certification keep conversations confidential.
Choose between the
SDW 5015
for desk phone and computer or the
SDW 5016
for desk phone, computer, and smartphone/tablet.
Product highlights:
Remarkable noise-canceling mic:
In our testing of the
SDW 5016
(MSRP: $409.00), we were amazed at the exceptional noise canceling in the microphone. We walked through our noisy warehouse with the normal background sounds of people speaking and a cart being pushed and loaded with products among the shelves, and
the noise was not transmitted to the person on the other end of the call
. This is because of the headset's two-mic design and cutting edge voice-detection technology. If you work in a noisy office, this is the perfect headset.
Warranty:
Sennheiser wireless headsets are covered by a 2-year warranty, double the industry standard.
Videos:
Sennheiser has produced a series of short YouTube videos that cover everything from how to assemble and wear the 3 included wearing styles* (headband, neck band, and ear hook), to how to handle, conference, and transfer calls. Another video highlights the different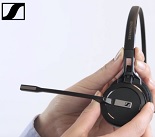 devices (USB and Bluetooth headsets and speakerphones) that can be connected to the SDW 5000 base. These videos are invaluable resources for SDW 5000 series headset wearers, who should bookmark the page for easy access:
SDW 5000 Series Playlist
.
Free software for headset updates:
HeadSetup Pro is the must-have companion software for all of your Sennheiser devices. The FREE software download is compatible with Windows operating systems. Download the software now:
HeadSetup Pro
.
Sennheiser included a built-in triangular busy light on the mic boom that turns Red when busy; Purple when streaming music; and Blue when the headset is docked on the base.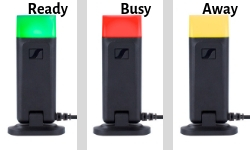 New to the Sennheiser product line is a
Busylight
designed for the SDW series. Connect it to the Busylight port (marked in blue) at the back of any of the SDW base units, and your presence is immediately indentified as Red (Busy), Green (Available), or Yellow (Away). It can be attached to a computer monitor, or placed on a desk. It is UC and Skype for Business certified.
Ready to learn more about Sennheiser SDW 5000 headsets? Give us a call at 1-866-998-9991 and talk to one of our headset experts today!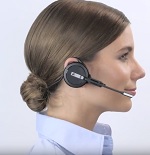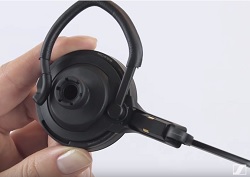 *SDW 5015 comes with the ear hook and headband only; the neck band is an optional, additional purchase.