There were 4 posts tagged: Background Noise
January 21st, 2016 • 0 Comments
Today's consumers are fortunate to have many different avenues to contact businesses: via mail; social media; chat, email; and of course, by phone. Companies are expected to provide stellar customer service in an efficient, expert manner and every communication with the customer provides the opportunity to build relationships, provide excellent customer service, and promote your brand and its message. No pressure, right?
In a webinar hosted by Plantronics, Neil Hooper from Plantronics stated, "100 percent of customer interactions will be in the public domain (due to social media)." If you are not providing an awesome experience to your customers, this is a terrifying thought!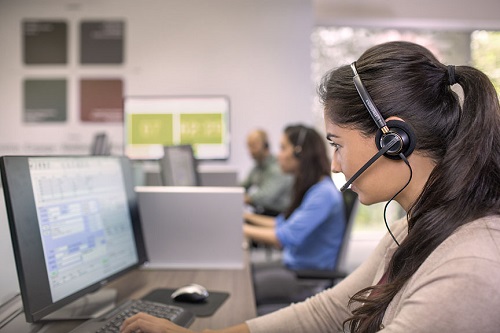 A key component to exceptional customer care is acoustics in your contact center. Colin Rawlings, the Tech Director of Acoustics by Design in the United Kingdom, shared some valuable information about good acoustics in your contact center. Background noise costs money. Simply put, when you provide a quiet and professional work environment where background noise is managed:
Stress is reduced
Absenteeism is reduced
Errors are reduced
Misunderstandings are reduced
Also:
staff retention, call quality, productivity and customer satisfaction are improved
.
To improve acoustics in your contact center, Rawlings suggests the ABC principle:
A – Absorb noise close to the source – the use of sound panels, wall panels, and freestanding office screens will provide noise absorption.
B – Block the direct path of sound – this can be accomplished by computer screens, desks and walls.
C – Cover/mask unwanted sounds –pipe in soothing water sounds, or electronic white noise.
And, a 4th item:
D- Discipline – correct microphone placement is critical: 2 finger width's away from the mouth is ideal.
Other things to consider:
Replace the voice tube regularly (they do get blocked) or, even better, use headsets with noise-cancelling microphones.
Replace the ear cushions on the headsets regularly. With regular use, the cushions can be broken down and can be uncomfortable.
Put these principles into play in your contact center and see if they are the differencemakers with your customers. Let us know if you have any additional ideas for good acoustics at your organization!
August 26th, 2015 • 0 Comments
In
part 1
of this series about the open office environment, we established that open office work environments are pervasive, distracting and generally not conducive for work that requires concentration – in fact, a Plantronics study found that overall productivity is reduced by 40%.
As the saying goes, "the show must go on" and with deadlines to meet (plus the paycheck associated with the expectation of work being accomplished), here are some tips to help you navigate the environment to your advantage: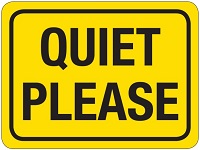 Establish expectations of a quiet office environment. Talk to your manager and ask if this policy can be implemented. If there is the expectation that the office will be quiet, conversations will be held at low volumes, and those walking through the environment should be quiet, with prolonged conversations held elsewhere. Reminders of this policy can be in the form of signs that are hung up throughout the entire work space.


Ear plugs. While this may look slightly ridiculous, sometimes it can be the only way to find true quiet, especially if you have no obligation to being on the phone. You can pick up ear plugs at any discount store for very little cost.


Headsets. With the variety of active noise cancelling headsets on the market today, and the "cool" factor that wearers of large headphones are enjoying, wearing a headset can provide a solid audial barrier. Active noise cancelling quiets ambient sounds by creating frequencies that block the noise at your ear. Not all sounds are blocked; overall, they will be significantly reduced.

Headsets also serve a practical purpose in your business environment because you can answer phone calls with them. The headsets are equipped with noise-cancelling microphones so that your caller will hear you, and not your noisy neighbor who laughs a bit too enthusiastically.

The Voyager Focus UC from Plantronics is a Bluetooth wireless headset that gives you dual ear coverage, an on/off Active Noise Cancelling switch, and an Open Mic button to tune into the environment when you need to. This headset connects seamlessly across PCs (with the included USB adapter), smartphones, and tablets. When you listen to music (delivered with incredible bass and natural midtones) the Focus UC pauses the music whenever you take the headset off, and resumes play when you put it back on. MSRP is $299.95.

For a corded headset with Active Noise Cancelling, the Jabra Evolve 80 UC has speakers that are built for style and comfort with large leatherette ear cushions, specifically designed to reduce office noise. When combined with active noise-cancelling technology, you get maximum protection against office noise. A busy-light indicator on the headset signals user availability to colleagues. The Evolve 80 connects via 3.5mm and USB for use with smart phones, tablets, and PCs. MSRP is $329.00.

Listening to music in your headset can be a great productivity booster. What type of music is best? Studies show that classical music or music without lyrics (such as an Ambient channel on iTunes Radio) can increase productivity, because it provides a mindless distraction. Music with lyrics can be distracting, especially when writing.

Or, if music just isn't your thing, "white noise" can be a great alternative. The app Noisli (also available to stream at http://www.noisli.com/ provides 16 audio samples of nature, a coffee shop, a fireplace, white noise, and others). There is a special mix for Productivity, available by selecting that choice. Other options include Rainy Mood or Simply Noise. Ultimately, it is an individual preference and something that can be determined through trial and error until you find your concentration zone.


Use busy lights or hang a "Do Not Disturb" sign on your chair or in your office space. Use this judiciously; it may appear that you are not a team player if your "Do Not Disturb" sign is displayed more often than it isn't.


Work from home. If this is a possibility, it may be worth looking into; however, a lack of infrastructure at your workplace might not allow for this solution.

Ultimately, we are responsible for how we react in any type of environment. How can we best adapt to this newer concept of open office space? Considering the variety of solutions available to combat open offices, hopefully you'll find the right solution that helps you along the way. If you have any questions regarding this topic, please reach out to us. We'd love to chat!



Overcome noise challenges in the open office
August 11th, 2015 • 0 Comments
Step into any business building today, and you will probably see an open office environment. Typically, phones are ringing, workers are typing, talking on the phone (sometimes on speakerphone!), and talking with each other over their desktops. The space looks busy, productive and efficient.
More than
70 percent of workers
in the United States work in these barrier-free environments. Seen as the modern way of doing business (compared to a traditional work place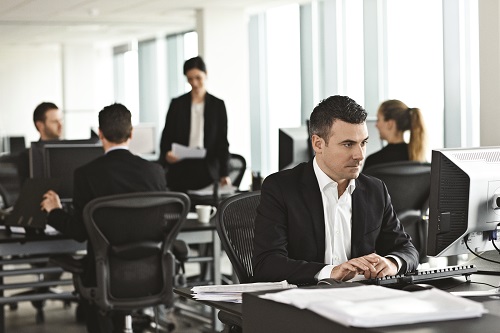 with offices and doors) the philosophy of an open workplace: to keep co-workers accessible and immediately available, is admirable. The open office "breaks down" the walls of status and division, keeping managers and employees in the same space.
There is a dark side to all of this openness, as open office floor plans have increased turnover and work-related stress, as well as lowered overall productivity (up to 40% as one
Plantronics study
found). For some workers whose senses stay on high alert all day, it is common to leave the office tired and stressed about not accomplishing daily tasks. Realistically, the open office doesn't allow for concentration or private conversation.
There are both pros and cons to open offices. Some of the
benefits
are:
Easily adaptable and expandable
Greater collaboration
Workers appear to be busy
Not as unattractive as cubicle arrangement
Lowered square foot per person: more people in one space, and less real estate cost
On the other hand, the
drawbacks
include:
Distracting: employees unable to focus
Lack of privacy: Worry of co-workers counting bathroom breaks, overhearing personal phone calls, etc.
Noisy: Plantronics reports that 53 percent of employees say they are disturbed by others when trying to focus
Lack of control over lighting and temperature
Illnesses and germs freely spread
Fortune magazine asserts "age discrimination" in the open office – those age 55 and older seem to flee the business once an open office is implemented
With all of the research – both anecdotal and scientific – available today, some environmental changes can be implemented to meet needs of both the business, and the employees. For example, huddle rooms (for two or more people working in collaboration) with a table and a door are utilized by teams that need to freely discuss projects and other items. For solitary creative work, such as writing, project planning and more, secluded rooms with a door (similar to a traditional office) are a great solution.
Employees themselves are their best managers, as they know which environmental triggers distract them. Is there a time during the day when you need to unplug from the environment, and plug into your thoughts? A great active noise-cancelling headset can be the answer to your problems. Short of moving to a secluded island (which is inconvenient, and of course, offers no wifi connection!) what are some of the ways we can manage our environment, and not let it manage us?
What we have lost in privacy, silence, and the time to think, we have hopefully gained in collaboration; ultimately, however, it is up to each individual to manage themselves within the open office environment. In
part 2
of this series, we discuss some solutions to surviving – and even thriving – in the pervasive modern open office environment.
October 21st, 2013 • 0 Comments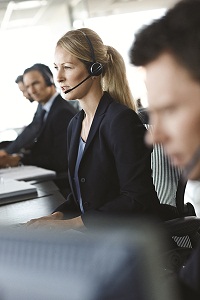 The professional contact center defines a customer's perception of your company and is a key component to company success. Your agents are the first, and sometimes only, contact your customers have with your business! There is no greater frustration for a customer than calling a business with a quick question or complaint – only to find the contact center agent is unknowledgeable, unhelpful or difficult to understand. If the agent works in a noisy center and the customer can hear conversations in the background, the impression of an amateur organization is made.
You can virtually eliminate background noise in your contact center with the 3 E's:
Environment, Expectation and Equipment
.

Josh Reeves, CEO of Entero Solutions
(a BPO consulting firm), has worked in the contact center industry since 1999. He shared some valuable insights into structuring a professional (and quiet) contact center.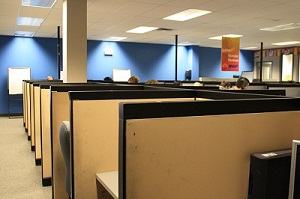 Environment
Make sure there is plenty of space between agents! Reeves suggests that alternating agents by their tasks helps: alternate voice products, live chat, e-mail callbacks, and order entry, so that not all agents who work primarily on the phone are grouped together. When building the center, think about noise-controlling features from top to bottom: egg carton acoustic foam pieces in higher ceilings, as well as sound absorbing ceiling tiles. On the walls, designs can be created with sound absorbing fabric. Cubicle partitions can be made with those same fabrics and partitions can be built taller so agents aren't directly looking at each other. For the floors, carpet works best to trap sound.


Expectation
Maintaining near-silence on the call floor, outside of calls, is important. If you think of this as "library quiet" you've got the right idea! Employees should have the expectation that chatting with each other between calls is kept to a minimum. Visitors to the contact center should be made aware of the quiet policy, and signs posted throughout the center are effective reminders of being mindful of noise levels.

Customers, too, have expectations. They trust your company with their personal and confidential information and presume that they will speak one-on-one with your company's representative. This trust can soon be lost if the customer is able to hear other conversations in the background. Reps who speak over your customers because they are unable to hear the phone conversation, also lose the trust of your customers.


Equipment
Reeves advises centers to "give agents the best equipment possible to get the results you're looking for." Two-ear (duo) headsets with noise-cancelling microphones are the best choice, says Reeves: "They (agents) can hear really well, and in turn, not have to speak as loud. They can maintain focus on the customer they are working with."


Noise cancelling is defined as the microphone design that greatly reduces the background noise so that the conversation is between your rep and the customer, without the sounds of your center coming through. Compare this to voice tube microphones, which do not offer any sound cancelling properties.

Additionally, ultra noise-cancelling offers enhanced noise-cancelling properties which carry your employees' voices so they can speak at normal, professional levels and still be heard by your customers. These microphones are best for the loudest contact centers, particularly outbound centers. The enhanced noise-cancelling microphones keep the background noises from disrupting conversations – essential to maintaining a professional contact center image.
Sennheiser's exclusive noise reduction technology, Adaptive Intelligence™, uses a complex digital signal processor to eliminate incoming and outgoing noise automatically, all while preserving the speech of the using parties. When moving from one dynamic noise environment to the other, the headset automatically compensates according to the unique environment and the users' preferences.

Amplifiers play a role as well. These
sound management devices
detect when the agent is not talking, and automatically lowers the microphone signal reducing outgoing background noise. The caller experiences a quiet pause rather than annoying background chatter! An amplifier quiets the line from the noises, crackles and background hisses, and offers hearing protection from the sometimes loud sound spikes that occur during calls. For less than $100, amplifiers make an inexpensive addition to the total sound package.
Reeves also suggests checking into warranties for the headsets. "I think it's important when getting your headsets that they have a good warranty because they're used, in some cases, 24 hours a day," says Reeves.
Jabra
,
Plantronics
and
Sennheiser
all offer at least a 2-year warranty for their corded headsets.
When all three keys have been effectively implemented – Environment, Expectation and Equipment – a quiet, professional contact center is the result. Your customer, and your employees, deserve nothing less than the best!