There were 4 posts tagged: Hybrid Work
July 28th, 2021 • 0 Comments
Poly
couldn't build a sound-proof wall around your work space, so they built something better: the new
Voyager Focus 2
headset with a "focus zone" for complete concentration in any environment. This is an update to the popular Voyager Focus that made working in open offices easier ... with today's hybrid work and the uncertainty of where you will be working from (and unknown background noises), the Voyager Focus 2 has hybrid digital Active Noise Cancellation for even better concentration and productivity.
The intuitive, high-end headset has an executive look and feel, with premium audio and clear conversations. Additionally, hybrid digital Active Noise Cancellation provides a "focus zone," wherever you work. Then you need a headset that is flexible, reliable, professional, comfortable, and offers
outstanding audio for collaboration and concentration.
This Bluetooth headset builds on the original Voyager Focus model, keeping some of its best features (the sling headband is one of the best!)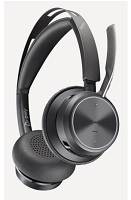 and brings in three levels of digital ANC to the ear speakers for enhanced concentration, and Acoustic Fence Technology to the smart discreet microphone boom.
The Voyager Focus 2 UC offers multipoint connectivity, which allows you to connect to two devices at the same time. Once you've paired it to your phone and connected to the USB dongle that you plug into your computer, you won't need to pair the Voyager Focus 2 again. And, the headset remembers up to 8 devices to quickly connect, without the process of pairing and unpairing.
A sleek charging dock is available with the headset, or as an additional accessory if you prefer to wait. We recommend purchasing the headset and charging station if you're planning to use this at a desk; this keeps the headset out of the way.
Place the headset on your head to answer the call ... you don't have to worry about looking for the phone.
The headband is flexible, with a super-cushioned sling design that evenly distributes the weight. This means that there's no pressure on your ears or the top of your head. Generously-sized ear cushions are wrapped in soft leatherette over high density foam and they contour to your ear. It's so comfortable, you can wear it all day — 19 hours of talk time you'll be able to keep talking. If you should need to charge the headset, you can continue to use it. Connect to PC via included micro USB cable with audio over USB mode
Another new feature: Voyager Focus 2 Office headsets connect to desk phones, computers and mobile phones and the UC variants connect to both computers and desk phones. All of the Poly Voyager Focus 2 UC and Office variants can be found, here:
Voyager Focus 2 UC and Office
.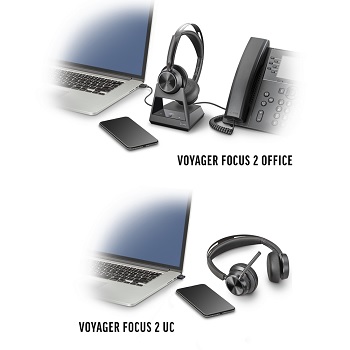 Once you receive the Voyager Focus 2, scan the QR code on the Quick Start guide with your smartphone, because there is a 5-minute Getting Started video that you will find extremely helpful, and it includes set-up instructions.
Next, download the free
Poly Lens desktop app
to your computer. You can customize the headset's settings (including the smart sensors), and stay up-to-date with the latest software. You also have access to the Voyager Focus 2 user manual, inside the Lens app.
Call our Headset Team at 1-866-998-9991 or Chat us now, for recommendations on which Voyager Focus 2 headset is best for you.
April 2nd, 2021 • 0 Comments
The current state of the workplace is in flux due to the COVID-19 Pandemic. At the beginning of the Pandemic, workers were sent to work from home at a rapid pace, with no idea when they would return. While some organizations have begun to bring back 100% of their staff, and others have completely moved to a work from home model, it appears that a hybrid method of working may be the best solution, according to surveys given to employees asking their preferences.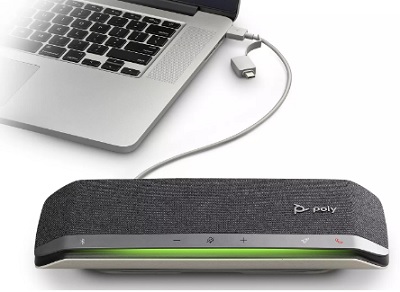 Hybrid working involves both locations: employees work some days each week in the office and spend the other days working from home so that the staff on premises is staggered and never at 100% occupancy to keep the workplace safe. In these hybrid work environments, audio tools that are flexible and can travel with you make the most sense.
If you work in a dedicated office space at home, and then travel into the office for meetings in conference rooms, Poly's new
Sync 40 and Sync 40+ speakerphones
may be the right audio device for you. The Sync 40s connect to computers via the combined USB-A and USB-C cable and smartphone via Bluetooth.
Daisy chain two Sync 40s together
Turn larger meeting spaces into professional-sounding conference rooms when you wirelessly pair two units together. When the Sync 40s are paired, you get bigger volume, more microphones, and wider voice pickup. Use two Poly Sync speakerphones with your Bluetooth-paired mobile device. Linking mode is available with Bluetooth mobile device connection only. (when connecting wirelessly to PC or smartphone via Bluetooth). Linking mode can be entered when both speakerphones are inactive (not in a call or streaming media).
• Your device will be ready to go for up to 30 hours of talk time.
• Access your favorite function — play/pause music, last-number redial, voice assistant and more — with a touch of the programmable rocket button. For use in common areas, the button can be programmed to manually clear previously paired Bluetooth devices.
• Never miss a word with multiple microphone array and full duplex audio. Workers stay productive with a high-performance, large music speaker for immersive multimedia.
• IP64 dust and water resistant. Protect your investment from everyday hazards.
• Two highly visible status light bars for 360 degree call status indication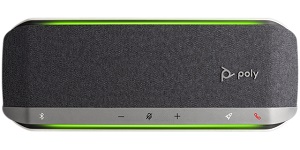 • Microsoft Teams version supports easy collaboration and communication with a dedicated Teams button that gives you instant access to the Teams App.
• Keep your smartphone charged and ready for use.
• Take calls from anywhere —an internal battery allows up to 30 hours of talk time. A convenient charge stand is also available as an additional purchase.
• MSRP: $299.95 / $349.95 for "+" versions
Our customer care team can help you decide which Sync 40/40+ model you need. As a stocking reseller, we ship out all in-stock product the same day, on orders received before 3 p.m. CT. Our convenient location in the center of the U.S. means that shipping times are quick!

Call our team at 1-866-998-9991 or Chat us.
March 2nd, 2021 • 0 Comments
Has your company implemented a BYOD (Bring Your Own Device) policy and you're not sure what type of audio and video product to purchase? Our team has put together a few suggestions at a variety of price points, for typical BYOD scenarios. These products will beat the audio and video quality found in a standard laptop or computer. Each individual environment and preference may require a modification, and our team is ready to provide specialized suggestions for your unique work space and situation. Call us at 1-866-998-9991 or Chat us now for help.
Quiet work spaces
If you are working in a private home office, private office, or in a hotel room, and you are able to close the door on noise, we suggest these devices:
A speakerphone with extra features,
such as the
Poly Sync 20+
: This USB-A with BT600 USB dongle speakerphone connects to computers and mobile phones.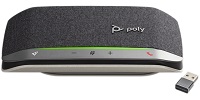 When you're not on a call or in a video conference, you can use the Sync 20 to play music. It's simple to connect and portable for use anywhere. The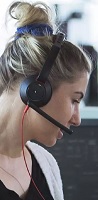 programmable Rocket Button can bring up a Voice Assistant, play music, and more. Customize this in the
Hub Desktop
software, a free download.
If you'd rather use a headset with your computer,
the
Poly Blackwire 5210
is a corded headset with call controls at your fingertips for call answer and end, volume adjustments, and mute. The lightweight headset has a large ultrasoft leatherette ear cushion, and it offers connection both via USB and 3.5mm; however, for best performance, it is recommended to connect to computers via USB. A noise-canceling microphone is integrated in the bendable mic boom so that your voice comes through loud and clear.
Other great options for a single-ear corded headset include the
Jabra Evolve II 30
which offers USB and 3.5mm connections; Poly
Blackwire 3310-M
which has a USB connection, and
Blackwire 3315-M
, which is a dual connection to USB and 3.5mm. All three of these headsets are Certified for Microsoft Teams, which means that when you connect this headset to your computer and you're logged into your Teams account, Teams will immediately recognize the device as the default sound device.
If you would prefer a wireless headset for computer only, the
Poly Savi 8200 UC
has wearing style options (mono, duo or convertible), ANC in the duo variant, and unlimited talk time in the
Savi 8245 UC
. For a wireless Bluetooth headset with dual connectivity for both mobile phone and computer, we recommend the
Jabra Evolve2 65
which seamlessly transitions between the two connections so you're always on.
Noisy work spaces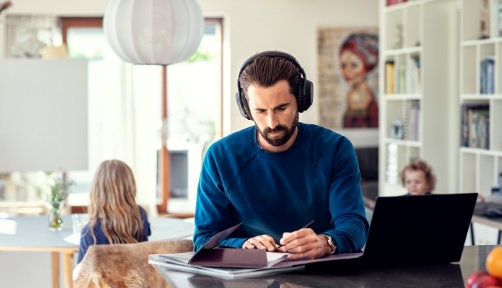 If you are working in a space with one (or more) family members, such as at the kitchen table, we recommend an Active Noise Canceling headset that will block background noise so that you are able to concentrate on your work.
EPOS Adapt 660
has adaptive Active Noise Canceling that monitors your working environment and adjusts noise reduction accordingly. Talk Through technology for listening to colleagues without removing the headset, for a quick check-in to your environment. These ear speakers completely surround the ears.
Jabra Evolve 80
has large ear speakers that completely surround the ear, and bright Busylights on the ear cups that provide a visual notification if you are on a call or do not want to be disturbed. This connects via both USB and 3.5mm jack for mobile phones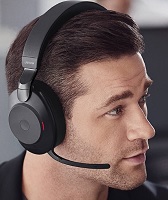 equipped with that port.
For a wireless ANC headset option from Jabra, the
Evolve2 85
has an advanced digital chipset for the clearest calls, a microphone boom that can be folded up and stored away when not in use, and Busylights that are more visible than ever, allowing you to be seen from every angle, for even fewer interruptions. These headsets have a "Listen In" feature for when you need to check in on your surroundings without taking off your headset.
A corded USB headset with advanced Active Noise Cancellation, the
Poly Blackwire 8225
has three settings for optimal productivity. Acoustic Fence Technology in the noise-canceling microphone keeps calls free from background noise, and improves vocal clarity for clear conversations.
A standard recommendation in noisy environments is to wear a duo headset with both ears covered, which helps to block ambient noise, for passive noise cancellation. The
Jabra Biz 2400 II Duo USB
headset has a Kevlar cord for durability, luxury leatherette ear cushions, an unbreakable 360° FreeSpin boom arm and call controls at your fingertips, thanks to the in-line call controller.

Poly Blackwire 5220
has a sling headband design in this dual ear headset, and connects via USB or 3.5mm. The in-line call controls are a handy feature, and let you answer/end calls, adjust volume and mute. The corresponding LED lights on the call controller provide a great visual reminder: Triple flash green=Incoming call; Double flash green=Call on hold; Solid green=On a call; Solid red=Headset is muted.
The
Poly EncorePro 320
is a lower cost option that plugs into your computer (either
USB-A
or
USB-C
), with in-line call controls for volume and mute.
For personalized recommendations, contact our Headset Experts at 1-866-998-9991 or Chat us and they will find the best solutions for your unique requirements.
July 22nd, 2020 • 0 Comments
Poly
's new white paper brings together thought leadership for what it calls the "Next Normal," which puts people first, to empower them in productive work environments — wherever the physical space may be.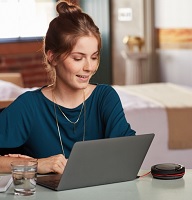 According to Poly, "2020 will be the catalyst for
hybrid working
, offering employees flexibility and choice, driving productivity through collaboration and communication." Basically, creating environments that foster productivity, collaboration, innovation and safety.
The digital transformation ensures consistent work experiences that will react to the crisis and mitigate any harm to the business.
Policies and procedures that support both the business and individual, in a "People First" culture as Poly calls it, will prove to be mutually beneficial.
Interestingly, Poly found that 85% of businesses surveyed believe that greater location flexibility has lead to an increase in productivity.
What can we expect in the "Next Normal?"
Home office spaces built into residences
Increased flexible work across locations
Recruitment over larger demographic (and perhaps geographic) areas
Work from home, meet in the office, bringing everyone together virtually
Smaller company footprints over more dispersed locations
Seamless work flows between home and office
Technology designed for ease of use with personal devices
Necessary business travel only
The only certainty? The core components of any organization: practices, workspace, and culture, will change as we transition into the "next normal." This won't be easy, but evolving to suit the needs of people and organizations will be worth it.
For more information about Hybrid Working, read
Hybrid Working: Creating the "Next Normal" in Work Practices, Spaces and Culture
, a resource from Poly.
If you need communication tools to support your work style, reach out to our Headset Experts at 1-866-998-9991 or Chat us now!