There were 5 posts tagged: Softphone
March 2nd, 2021 • 0 Comments
Has your company implemented a BYOD (Bring Your Own Device) policy and you're not sure what type of audio and video product to purchase? Our team has put together a few suggestions at a variety of price points, for typical BYOD scenarios. These products will beat the audio and video quality found in a standard laptop or computer. Each individual environment and preference may require a modification, and our team is ready to provide specialized suggestions for your unique work space and situation. Call us at 1-866-998-9991 or Chat us now for help.
Quiet work spaces
If you are working in a private home office, private office, or in a hotel room, and you are able to close the door on noise, we suggest these devices:
A speakerphone with extra features,
such as the
Poly Sync 20+
: This USB-A with BT600 USB dongle speakerphone connects to computers and mobile phones.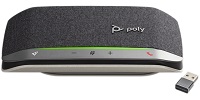 When you're not on a call or in a video conference, you can use the Sync 20 to play music. It's simple to connect and portable for use anywhere. The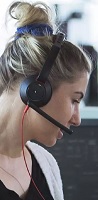 programmable Rocket Button can bring up a Voice Assistant, play music, and more. Customize this in the
Hub Desktop
software, a free download.
If you'd rather use a headset with your computer,
the
Poly Blackwire 5210
is a corded headset with call controls at your fingertips for call answer and end, volume adjustments, and mute. The lightweight headset has a large ultrasoft leatherette ear cushion, and it offers connection both via USB and 3.5mm; however, for best performance, it is recommended to connect to computers via USB. A noise-canceling microphone is integrated in the bendable mic boom so that your voice comes through loud and clear.
Other great options for a single-ear corded headset include the
Jabra Evolve II 30
which offers USB and 3.5mm connections; Poly
Blackwire 3310-M
which has a USB connection, and
Blackwire 3315-M
, which is a dual connection to USB and 3.5mm. All three of these headsets are Certified for Microsoft Teams, which means that when you connect this headset to your computer and you're logged into your Teams account, Teams will immediately recognize the device as the default sound device.
If you would prefer a wireless headset for computer only, the
Poly Savi 8200 UC
has wearing style options (mono, duo or convertible), ANC in the duo variant, and unlimited talk time in the
Savi 8245 UC
. For a wireless Bluetooth headset with dual connectivity for both mobile phone and computer, we recommend the
Jabra Evolve2 65
which seamlessly transitions between the two connections so you're always on.
Noisy work spaces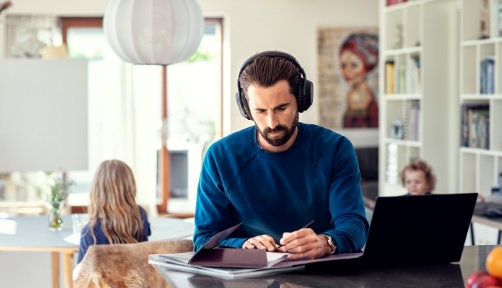 If you are working in a space with one (or more) family members, such as at the kitchen table, we recommend an Active Noise Canceling headset that will block background noise so that you are able to concentrate on your work.
EPOS Adapt 660
has adaptive Active Noise Canceling that monitors your working environment and adjusts noise reduction accordingly. Talk Through technology for listening to colleagues without removing the headset, for a quick check-in to your environment. These ear speakers completely surround the ears.
Jabra Evolve 80
has large ear speakers that completely surround the ear, and bright Busylights on the ear cups that provide a visual notification if you are on a call or do not want to be disturbed. This connects via both USB and 3.5mm jack for mobile phones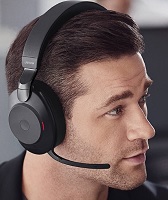 equipped with that port.
For a wireless ANC headset option from Jabra, the
Evolve2 85
has an advanced digital chipset for the clearest calls, a microphone boom that can be folded up and stored away when not in use, and Busylights that are more visible than ever, allowing you to be seen from every angle, for even fewer interruptions. These headsets have a "Listen In" feature for when you need to check in on your surroundings without taking off your headset.
A corded USB headset with advanced Active Noise Cancellation, the
Poly Blackwire 8225
has three settings for optimal productivity. Acoustic Fence Technology in the noise-canceling microphone keeps calls free from background noise, and improves vocal clarity for clear conversations.
A standard recommendation in noisy environments is to wear a duo headset with both ears covered, which helps to block ambient noise, for passive noise cancellation. The
Jabra Biz 2400 II Duo USB
headset has a Kevlar cord for durability, luxury leatherette ear cushions, an unbreakable 360° FreeSpin boom arm and call controls at your fingertips, thanks to the in-line call controller.

Poly Blackwire 5220
has a sling headband design in this dual ear headset, and connects via USB or 3.5mm. The in-line call controls are a handy feature, and let you answer/end calls, adjust volume and mute. The corresponding LED lights on the call controller provide a great visual reminder: Triple flash green=Incoming call; Double flash green=Call on hold; Solid green=On a call; Solid red=Headset is muted.
The
Poly EncorePro 320
is a lower cost option that plugs into your computer (either
USB-A
or
USB-C
), with in-line call controls for volume and mute.
For personalized recommendations, contact our Headset Experts at 1-866-998-9991 or Chat us and they will find the best solutions for your unique requirements.
February 12th, 2020 • 0 Comments
Question:
What is the easiest (and most cost-effective) way to turn your existing QD (quick disconnect) headsets into USB headsets?
Answer:
Change out the bottom cable.
PC-based phones (also known as softphones) are changing the communication landscape, and companies that have been using headsets with desk phones may not realize they can keep their current headsets and use them with PCs instead. Simply with a change-out of cords, organizations can protect their headset investment. All of our brands offer QD-to-USB cables that are compatible with each of their QD headsets, and all leading brands of softphones. As a result, users can continue to leverage the benefits of their current professional headsets.
This makes it the ideal solution for contact centers that want a smooth and cost-effective transition to a Unified Communications solution.
Jabra QD-to-USB Cords
Jabra offers the Link 230, Link 260 and Link 265. The
Link 230
is simply a connecting cord; the
Link 260
includes an in-line call controller. The controller gives agents call functions at their fingertips, such as Answer/End, Mute, and volume adjustments. The Link 260 has a variant that's certified for Microsoft, too:
Link 260 MS
. The
Link 265
is unique to the market: an all-in-one USB training cord with call controls. We know of organizations that purchase the Link 265s for each agent, so the supervisor can simply connect their headset at any time during a call.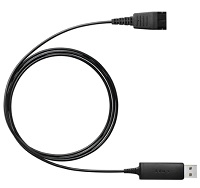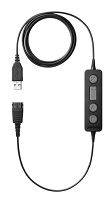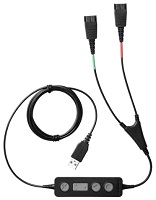 Not sure which QD-to-USB cord you need? We will find a compatible and effective solution for your unique environment. Call our headset team at 1-866-998-9991 or Chat us now!
March 20th, 2018 • 0 Comments
USB headsets simplify the set-up for daily use at the agent's PC, Thin Client, etc. It's easy to plug-and-work with these headsets for daily use; however, when side-by-side training is necessary, a frequent question that we receive is: "Can I do side-by-side training using USB headsets?"
The answer:
You cannot!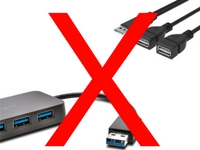 While there are USB hubs and USB adapters/splitters (male USB to dual female USB plugs) on the market, they are
not built for the distribution of sound
. These cables are typically for power transfer and some carry data.
Another thought is to simply plug 2 USB headsets into the PC at the same time; unfortunately, the PC can only push sound through 1 device at a time.
When our customers ask us how to achieve side-by-side training in a softphone environment, our recommendation and only option is to purchase
QD headsets.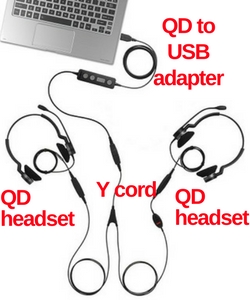 Our recommendations for side-by-side training:
The least expensive Training setup is to utilize the Jabra
BIZ 1500 QD's
, the Jabra
Link 230
(no volume control) and the VXi
Training Y cord
. If you need volume control while training, then we would recommend purchasing the Jabra
Link 265
, along with 2 Biz 1500 QD headsets.
The image to the right shows how this training set-up would look. In this example,
Jabra
Biz 2300 headsets and the Link 260 with call controls are pictured; however, it would be a similar arrangement for
Plantronics
,
Sennheiser
and
VXi
products.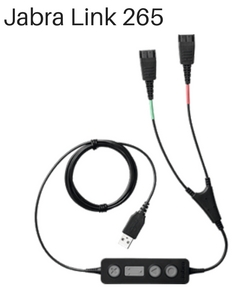 There is a USB Y cord unique to Jabra, the
Link 265
, which connects 2 QD headsets and ends in USB. This cuts out one step in the above pictured set-up, but is only available from Jabra, and is compatible with Jabra QD headsets. The Link 265 has a module that controls sound distribution, and the in-line call controls are a nice touch. This QD USB Y cord was created for softphone training!
We are happy to discuss your unique training needs, and provide recommendations based on your requirements. Contact us today: 1-866-998-9991 or
email us
.
April 5th, 2017 • 0 Comments
With the introduction of the MDA200, Plantronics asserted itself as a leader in Unified Communications for hardware solutions. The device, and its sister, the
MDA100 QD
, are complementary audio switchers that function with a variety of headsets to ensure smooth communication, whether it's on your desk phone, soft phone, and even smartphone! Plantronics has replaced the MDA200 with the new
MDA220 USB
, which features improved echo cancellation and enhanced headset compatibility.

Simple, intuitive, seamless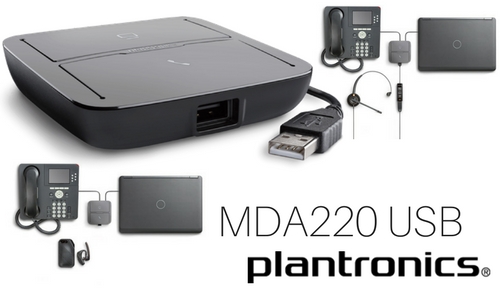 Our testing of the
MDA220 USB
found that the device is pretty much the best thing since sliced bread! This device enables corded USB headsets and UC-enabled Bluetooth headsets (those with USB dongles) to be used with a desk phone and gives the user the option of switching between the desk phone and computer. When using a Bluetooth headset with the MDA220 USB, it allows for
triple connection
to your smartphone, desk phone and computer. It's ideal for Unified Communications environments where desk phones are still present. And, what we really love about the MDA220 USB is that is now gives us the ability to use an active noise cancelling headset with our desk phone.
As office designs are quickly converting to open floor plans, we have received many inquiries from customers who are looking for a desk phone compatible headset that will provide active noise cancellation in the speakers. While Plantronics and Jabra both offer
ANC headsets
, they are strictly USB connection and unless you have an MDA220 USB, you won't be able to use them with your desk phone.
We did thorough testing with several headsets, and did not need to stay within the Plantronics brand. As a disclaimer, Plantronics only guarantees the use of the MDA220 USB with a specific list of headsets that is continually updated.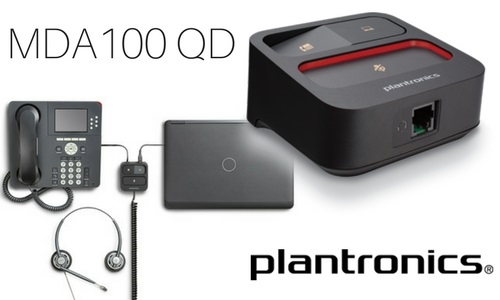 The
MDA100 QD
is used with corded Quick Disconnect headsets and enables the user to toggle back and forth from USB to desk phone. There is a Mute button at the top of the MDA100 QD. When the mute is activated, the button is depressed and the area surrounding the button is red. Release the button and the mute is turned off.
Plantronics recommends this product for customer service centers who are transitioning from desk phones to softphones and unified communications (UC), and require users to manage audio from two sources with a single headset.
The MDA220 USB and MDA100 QD audio switching devices utilize the headsets you already have in place and connect them to audio endpoints for the best use of your resources. Interested in learning more about the MDA family?
Contact us!
March 17th, 2016 • 0 Comments
At Avcomm Solutions, one of the benefits of our jobs is speaking with our customers. Your questions, ideas, and challenges keep us on our toes, and ensure that we continue to find the best ways to serve you. In the past year or more, we have noticed an increased number of our customers are swapping out desk phones for softphone solutions – most especially in contact center environments. And we all know the cost of replacing telephony equipment/software, coupled with the cost of hardware, can be a huge expense. Regarding these environments, almost always the question we hear is: "Can we keep our existing QD headsets?"
Our answer: "absolutely!"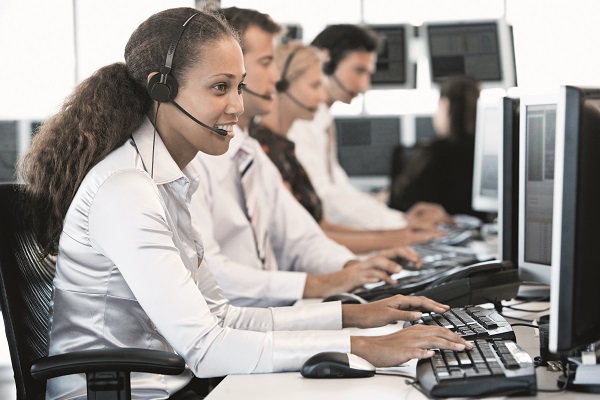 All of our headset manufacturers (
Jabra
,
Sennheiser
,
Plantronics
and
VXi
) offer USB adapters that connect to PCs via USB; some of the brands additionally offer amplifiers. You can use your existing Quick Disconnect headsets when you purchase a USB adapter that simply plugs into a USB port in your PC, and then connects to the headset with the QD connection. The adapters and amplifiers provide additional noise technologies for clear calls.
Depending upon the features your company wants to provide for its staff, simple USB adapters (QD to USB) are fairly inexpensive and run anywhere from $30-$70.
You will pay more for features such as call answer/end, volume, and mute control, but this offers a more user-friendly experience for your customer representatives. Your staff would be able to use the touch buttons on the device, rather than using softkeys on their PCs.
Amplifiers that are USB compatible provide noise protections, better sound quality and, depending upon the manufacturer, premium features that include voice recording.
Software updates for the USB devices are offered free of charge from each manufacturer. These updates enable USB devices to have Remote Call Control over softphones (specific softphones supported are manufacturer dependent), bring features to personalize the device, and can also update status.
These USB adapters and amplifiers are great for hot desking and multiple shift environments; each representative can have their own headset, and connect to the PC at the desk they're assigned to work at that day. At the end of their shift, they can detach the headset and walk away. The PC is ready for the next employee to use.
An advantage of using your existing quick disconnect headsets when transitioning to softphones is the ability to continue doing side by side training utilizing your training Y cables. When planning your softphone rollout, be sure to keep in mind how certain day to day tasks, such as side by side training, might be affected. Some companies choose to update their headsets at the time of a softphone rollout and go with all-in-one USB solutions, which leave no option of side by side training. In that case, a separate training setup must be purchased, which adds to your list of product you have to manage.
Once an overall plan has been determined, the transition to softphones can be easily accomplished. Do you have questions about how to transition your current headsets to a softphone environment? We will discuss the process with you (providing helpful, brand-specific advice along the way!) and provide options. If desired, we can provide a quote specifically tailored to your organization.
Contact us
today!