Protect your headset investment: turn QD headsets into USB headsets
February 12th, 2020 • Comments
Tags: QD headset, USB headset, Quick Disconnect, USB, Bottom Cable, Communication Is Our Business, Unified Communications, UC, Softphone, Link 230, Link 260, Link 265
Question:
What is the easiest (and most cost-effective) way to turn your existing QD (quick disconnect) headsets into USB headsets?
Answer:
Change out the bottom cable.
PC-based phones (also known as softphones) are changing the communication landscape, and companies that have been using headsets with desk phones may not realize they can keep their current headsets and use them with PCs instead. Simply with a change-out of cords, organizations can protect their headset investment. All of our brands offer QD-to-USB cables that are compatible with each of their QD headsets, and all leading brands of softphones. As a result, users can continue to leverage the benefits of their current professional headsets.
This makes it the ideal solution for contact centers that want a smooth and cost-effective transition to a Unified Communications solution.
Jabra QD-to-USB Cords
Jabra offers the Link 230, Link 260 and Link 265. The
Link 230
is simply a connecting cord; the
Link 260
includes an in-line call controller. The controller gives agents call functions at their fingertips, such as Answer/End, Mute, and volume adjustments. The Link 260 has a variant that's certified for Microsoft, too:
Link 260 MS
. The
Link 265
is unique to the market: an all-in-one USB training cord with call controls. We know of organizations that purchase the Link 265s for each agent, so the supervisor can simply connect their headset at any time during a call.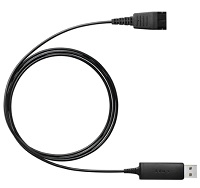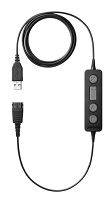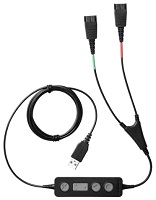 Not sure which QD-to-USB cord you need? We will find a compatible and effective solution for your unique environment. Call our headset team at 1-866-998-9991 or Chat us now!