There were 4 posts tagged: USB headset
February 12th, 2020 • 0 Comments
Question:
What is the easiest (and most cost-effective) way to turn your existing QD (quick disconnect) headsets into USB headsets?
Answer:
Change out the bottom cable.
PC-based phones (also known as softphones) are changing the communication landscape, and companies that have been using headsets with desk phones may not realize they can keep their current headsets and use them with PCs instead. Simply with a change-out of cords, organizations can protect their headset investment. All of our brands offer QD-to-USB cables that are compatible with each of their QD headsets, and all leading brands of softphones. As a result, users can continue to leverage the benefits of their current professional headsets.
This makes it the ideal solution for contact centers that want a smooth and cost-effective transition to a Unified Communications solution.
Jabra QD-to-USB Cords
Jabra offers the Link 230, Link 260 and Link 265. The
Link 230
is simply a connecting cord; the
Link 260
includes an in-line call controller. The controller gives agents call functions at their fingertips, such as Answer/End, Mute, and volume adjustments. The Link 260 has a variant that's certified for Microsoft, too:
Link 260 MS
. The
Link 265
is unique to the market: an all-in-one USB training cord with call controls. We know of organizations that purchase the Link 265s for each agent, so the supervisor can simply connect their headset at any time during a call.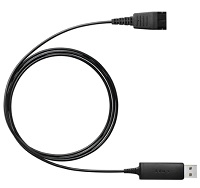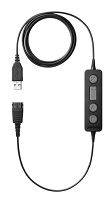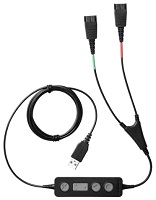 Not sure which QD-to-USB cord you need? We will find a compatible and effective solution for your unique environment. Call our headset team at 1-866-998-9991 or Chat us now!
January 2nd, 2020 • 0 Comments
Sound quality is crucial when making calls and streaming multimedia. We always want to use the best headset for each environment, connection type, and personal wearing preference. We assume that "all headsets are created equal," but that is not the case. Recently,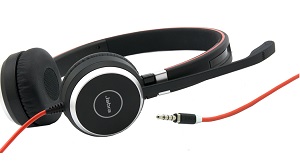 we heard the statement: "Jack connections work more reliably than USB ones" when used with PCs; in fact, USB headsets offer more benefits and better sound quality, as well as reliability. We recommend USB headsets over 3.5mm headsets when connecting to computers, and here's why:
Jack connections, or 3.5mm connectors, are pin-shaped plugs that can support stereo sound and microphones, depending on the number of separate connector rings on the plug or jack. The 3.5mm jack has been a standard feature across numerous devices, especially portable ones, such as the transistor radio, Walkman, and most recently, different makes and models of smartphones. They can also be used with computers that have the 3.5mm jack plug. The 3.5mm uses the device's sound processing system, such as a computer's sound card, for analog sound.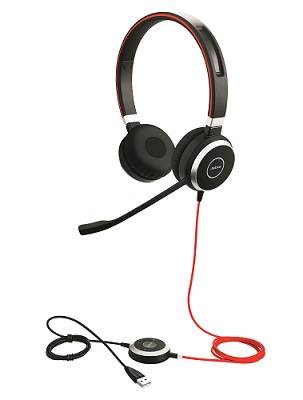 USB headsets bypass your computer's sound card and use their own sound processing system, for better sound quality than 3.5mm headsets. USB headsets benefit from digital-to-analog processing outside of the computer. USB processes digital sound from your device and runs it through its sound system that filters out the audio and removes ambient noise, resulting in much cleaner sounds. For rich wideband audio, and to hear more highs and lows, USB connection is typically preferred. USB provides a lifelike audio experience, compared with 3.5mm headsets.
Another great feature found in USB headsets: in-line call controllers, for ease of call management. Buttons for answer/end, volume, and mute are standards for the control units.
USB headsets can be continually updated, thanks to the free firmware updates offered by each brand, such as Jabra Direct for all Jabra USB devices. And, with cloud-based software management programs that support all main operating systems (some free, others available at scaling costs), global inventory, mass deployments, call analytics, agile maintenance and more can be achieved at the click of a button from an IT administrator.
Jabra Xpress
is one of these global software management software packages.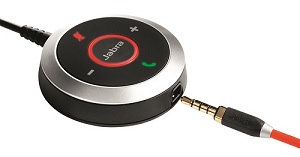 The Jabra Evolve 40 headset pictured throughout this post offers both 3.5mm and USB connections. It is a versatile headset for both in the office, and on the go. We always recommend the use of the USB connection when using the Evolve 40 with a PC. The Jabra Eolve 40 is available in both standard USB and USB-C options.
Our Headset Experts are ready to help you find the best headset for your environment. Give us a call at 1-866-998-9991 or Chat us now!
Source:
USB vs Analog Headsets
, azcentral.
March 6th, 2019 • 0 Comments
Help your Jabra headset become smarter.
While you may be familiar with high-quality devices from
Jabra,
such as Evolve headsets and Speak speakerphones, you may not know that Jabra also provides innovative, AI-enhanced software that supports its USB (and Bluetooth with Link 360/370 adapter) products. Jabra Direct 2.0 is available now —
and, it's free
.
Core functions of Jabra Direct:
•Automatically get firmware updates so that your headset is always updated and secure.
•Personalize your headset settings according to personal preferences, or company requirements. Functions such as ringtone, sound optimization for music, audio protection level, sidetone level, and many more areas can be controlled.
•Remote call control (answer/end/call, mute, redial, etc.) for UC platforms.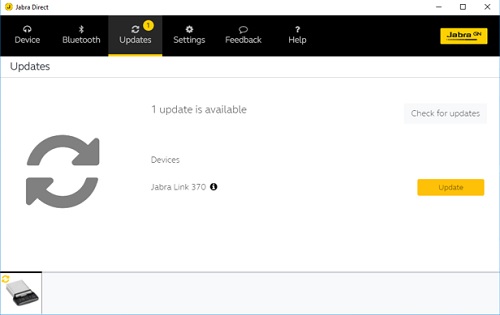 Jabra Direct has an intuitive, user-friendly interface that provides overall status of each connected device, and notifications of updates. To receive firmware update notifications, go to Settings and switch Update Notifications to "On." This alerts you to open Jabra Direct, and run updates as they are available.
Key updates in Direct 2.0:
Enterprises that use a proxy server, and those who prefer on-premise deployments, are now supported. Jabra Direct 2.0 will be able to connect to the Internet and receive settings and firmware in proxy-based environments. For enterprises that prefer not to be connected to the Internet, change settings or firmware updates on Jabra devices can be managed and controlled by the enterprise, within their firewall. Another update: Direct 2.0 provides data about end-user name and PC/Mac name, which is also then added as a service in Xpress 2.0. Additionally, Jabra announced that it has certified the handling of customer data in the Jabra Cloud with the SOC 2 declaration. Jabra is committed to protecting customer data against unwanted usage by a third party.
Download Jabra Direct 2.0 for Windows or Mac, from the
Jabra Direct
page.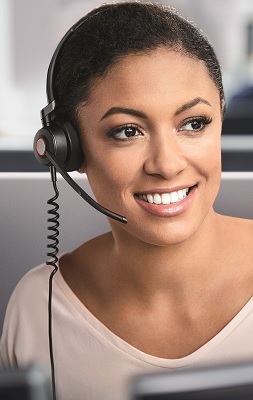 Jabra Engage 50
Jabra Engage 50 is a new generation of digital headsets that provide additional call analytic metrics. The Engage 50 is the first Jabra corded headset to have the chip in the headset itself, making it a true digital headset. The Engage 50 uses the very latest chipset, and this, along with the positioning of the chip, delivers enhanced functionality and user experience.
No longer are headsets an accessory to a phone system, simply transmitting human audio; they are now a "business critical element of the whole infrastructure," according to Jabra SVP Holger Reisinger. These digital devices provide call analytics that in some cases can listen to how people say things, extracting human sentiment from the human voice. Reisinger says that Jabra is providing proof of concept with new KPIs for the contact center, such as measuring agent friendliness against customer anger, in real time. Rather than recording calls and doing transcription analytics, this information is measured in real time and shown as a graph,
in front of the agent who is on the call
, so that the agent can adjust tactics, mid-call.
Jabra Xpress 2.0 Now Available
For organization-wide updates and inventory management, we recommend
Jabra Xpress
, a free online tool. Read all about Jabra Xpress on our blog, here:
Jabra Xpress: Mass Headset Deployment Made Easy
. This program allows IT staff to create software packages for remote updates, configurations and asset management of Jabra USB devices. Jabra Xpress has also been updated to a 2.0 version. To create an account to begin using Jabra Xpress, or update existing Jabra Xpress to the 2.0 version, go to the Xpress microsite:
Jabra Xpress 2.0
.
Jabra Direct 1.0 and Jabra Xpress 1.0 will be discontinued June 30, 2019. We recommend updating to the new 2.0 versions today. Please reach out to us with any questions you have about these updates, and let us know if you need any assistance: 1-866-998-9991.
March 20th, 2018 • 0 Comments
USB headsets simplify the set-up for daily use at the agent's PC, Thin Client, etc. It's easy to plug-and-work with these headsets for daily use; however, when side-by-side training is necessary, a frequent question that we receive is: "Can I do side-by-side training using USB headsets?"
The answer:
You cannot!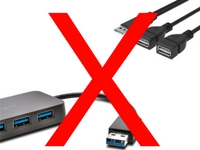 While there are USB hubs and USB adapters/splitters (male USB to dual female USB plugs) on the market, they are
not built for the distribution of sound
. These cables are typically for power transfer and some carry data.
Another thought is to simply plug 2 USB headsets into the PC at the same time; unfortunately, the PC can only push sound through 1 device at a time.
When our customers ask us how to achieve side-by-side training in a softphone environment, our recommendation and only option is to purchase
QD headsets.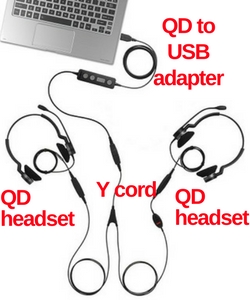 Our recommendations for side-by-side training:
The least expensive Training setup is to utilize the Jabra
BIZ 1500 QD's
, the Jabra
Link 230
(no volume control) and the VXi
Training Y cord
. If you need volume control while training, then we would recommend purchasing the Jabra
Link 265
, along with 2 Biz 1500 QD headsets.
The image to the right shows how this training set-up would look. In this example,
Jabra
Biz 2300 headsets and the Link 260 with call controls are pictured; however, it would be a similar arrangement for
Plantronics
,
Sennheiser
and
VXi
products.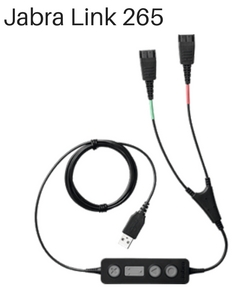 There is a USB Y cord unique to Jabra, the
Link 265
, which connects 2 QD headsets and ends in USB. This cuts out one step in the above pictured set-up, but is only available from Jabra, and is compatible with Jabra QD headsets. The Link 265 has a module that controls sound distribution, and the in-line call controls are a nice touch. This QD USB Y cord was created for softphone training!
We are happy to discuss your unique training needs, and provide recommendations based on your requirements. Contact us today: 1-866-998-9991 or
email us
.