There were 4 posts tagged: Link 265
February 12th, 2020 • 0 Comments
Question:
What is the easiest (and most cost-effective) way to turn your existing QD (quick disconnect) headsets into USB headsets?
Answer:
Change out the bottom cable.
PC-based phones (also known as softphones) are changing the communication landscape, and companies that have been using headsets with desk phones may not realize they can keep their current headsets and use them with PCs instead. Simply with a change-out of cords, organizations can protect their headset investment. All of our brands offer QD-to-USB cables that are compatible with each of their QD headsets, and all leading brands of softphones. As a result, users can continue to leverage the benefits of their current professional headsets.
This makes it the ideal solution for contact centers that want a smooth and cost-effective transition to a Unified Communications solution.
Jabra QD-to-USB Cords
Jabra offers the Link 230, Link 260 and Link 265. The
Link 230
is simply a connecting cord; the
Link 260
includes an in-line call controller. The controller gives agents call functions at their fingertips, such as Answer/End, Mute, and volume adjustments. The Link 260 has a variant that's certified for Microsoft, too:
Link 260 MS
. The
Link 265
is unique to the market: an all-in-one USB training cord with call controls. We know of organizations that purchase the Link 265s for each agent, so the supervisor can simply connect their headset at any time during a call.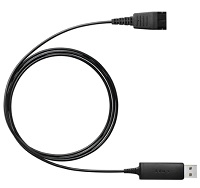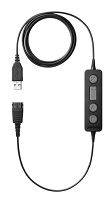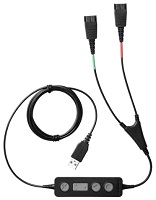 Not sure which QD-to-USB cord you need? We will find a compatible and effective solution for your unique environment. Call our headset team at 1-866-998-9991 or Chat us now!
March 20th, 2018 • 0 Comments
USB headsets simplify the set-up for daily use at the agent's PC, Thin Client, etc. It's easy to plug-and-work with these headsets for daily use; however, when side-by-side training is necessary, a frequent question that we receive is: "Can I do side-by-side training using USB headsets?"
The answer:
You cannot!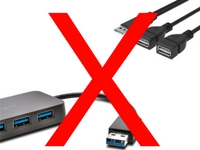 While there are USB hubs and USB adapters/splitters (male USB to dual female USB plugs) on the market, they are
not built for the distribution of sound
. These cables are typically for power transfer and some carry data.
Another thought is to simply plug 2 USB headsets into the PC at the same time; unfortunately, the PC can only push sound through 1 device at a time.
When our customers ask us how to achieve side-by-side training in a softphone environment, our recommendation and only option is to purchase
QD headsets.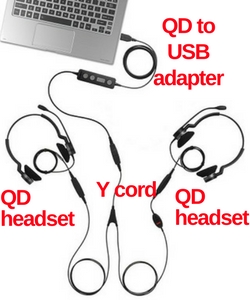 Our recommendations for side-by-side training:
The least expensive Training setup is to utilize the Jabra
BIZ 1500 QD's
, the Jabra
Link 230
(no volume control) and the VXi
Training Y cord
. If you need volume control while training, then we would recommend purchasing the Jabra
Link 265
, along with 2 Biz 1500 QD headsets.
The image to the right shows how this training set-up would look. In this example,
Jabra
Biz 2300 headsets and the Link 260 with call controls are pictured; however, it would be a similar arrangement for
Plantronics
,
Sennheiser
and
VXi
products.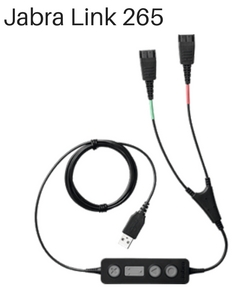 There is a USB Y cord unique to Jabra, the
Link 265
, which connects 2 QD headsets and ends in USB. This cuts out one step in the above pictured set-up, but is only available from Jabra, and is compatible with Jabra QD headsets. The Link 265 has a module that controls sound distribution, and the in-line call controls are a nice touch. This QD USB Y cord was created for softphone training!
We are happy to discuss your unique training needs, and provide recommendations based on your requirements. Contact us today: 1-866-998-9991 or
email us
.
March 28th, 2017 • 0 Comments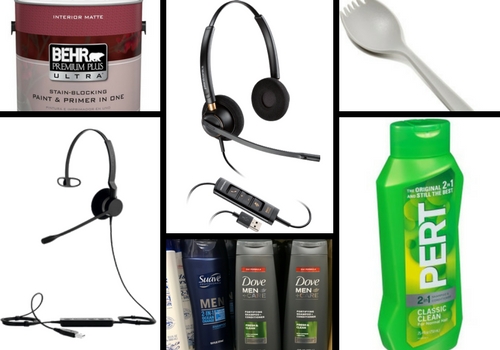 The term "all-in-one" brings to mind 2-in-1 Shampoo and Conditioner, sporks, and other consumer products. Dictionary. com defines "all-in-one" as something that combines two or more items or functions in a single unit. The very term implies simplicity.
When applied to headsets, the term all-in-one refers to the headset and the USB call control unit together forming a single solution that
does not require an additional piece for functionality
.

For USB connection, there are two types of corded headsets: Quick Disconnect (QD) and All-in-One. Quick Disconnect headsets end in a proprietary connector and require a QD cable to USB adapter cable for softphone. All-in-one USB headsets plug directly into a USB port. Call controllers are standard in these all-in-one solutions,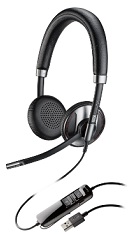 for user-friendly one-touch call answer/end, mute, and volume.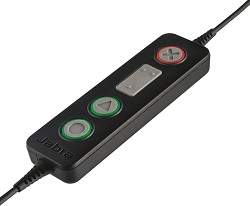 There are benefits to all-in-one headsets: easier inventory management (1 piece rather than 2 or more); easy distribution to staff; and set up on softphones can be controlled from the IT Manager's desk, depending upon which brand of headset is used. One issue that must be examined is how side by side training and monitoring will take place. All-in-one USB headsets DO NOT allow a second headset to plug in anywhere. You must use QD setups for training which allow two headsets to be connected to one station.
Here are some of the training set-ups that we recommend to our customers: 2 QD headsets used with a standard QD Y-cord and a QD to USB connector cable; wireless headsets; or when using Jabra headsets, 2 QD headsets, with a Link 265 USB Y-cord.
Contact us today for help determining the very best headsets for your environment and budget: 1-866-998-9991.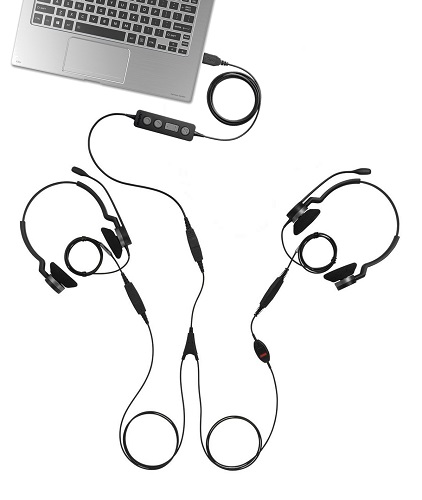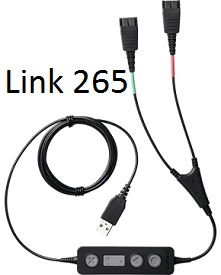 June 13th, 2014 • 0 Comments
The Jabra LINK 265 is a brand new USB connection Y-training cable that boosts productivity and streamlines the equipment needed for training. This is a unique product in the market for training purposes. Not only does it allow two Jabra Quick Disconnect (QD) style headsets to connect to one PC, but it also provides inline volume and mute control, as well as customization of buttons based upon user preference. Call center agents, trainers, and supervisors alike will appreciate the ease of use of the
LINK 265
.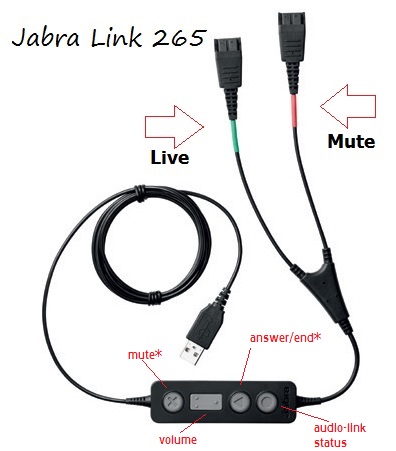 *Please note that the "X" and triangle buttons are programmable and can be set according to your preference through PC Suite. The functionality of these programmable options is dependent upon the softphone that is being used. The first time you plug in the LINK 265 to the USB port on your computer, the three round buttons light up green. The audio-link status button turns to red and the others turn off.
You'll also notice that each side of the Y cord is tagged with a different color: green and red. The green side allows for voice transmission at all times and has the option of being muted. The red side is designed for the supervisor/trainer to connect to and is muted by default (red light around audio-link status button indicates mute). Should the supervisor need to activate or unmute their microphone, simply press and hold the audio-link status button on the LINK 265 for 1-2 seconds, until the light turns green. The supervisor is now live and able to join the conversation. To mute the supervisor's side again, hold the same button for 1-2 seconds, and the light will turn red.
Mute both headset microphones at the same time by pressing the Mute button.
Two additional features worth mentioning:
Digital Signal Processing (DSP) removes background noise and echo, as well as protects users against sudden high peaks in volume.
HD Voice – Wideband Audio is high quality audio for crystal clear, intelligible conversations. Life-like, vibrant conversations help you to focus on the content of the conversation.
Your agents' safety is a priority for Jabra. The LINK 265 has Jabra SafeTone™, including Jabra PeakStop and Jabra IntelliTone™, the enhanced hearing protection technology. These technologies prevent stress and hearing injuries. The LINK 265 delivers acoustic shock protection and is compliant with the Noise at Work legislation in the EU.
If your organization is looking for workplace flexibility – such as hot desking – the LINK 265 is an ideal connector. Free and downloadable
Jabra Direct
and
Jabra Xpress
software allow you to set up and personalize devices in a minimal amount of time.
Here's a quick view at the many options that the LINK 265 programmable buttons offer through Jabra Direct: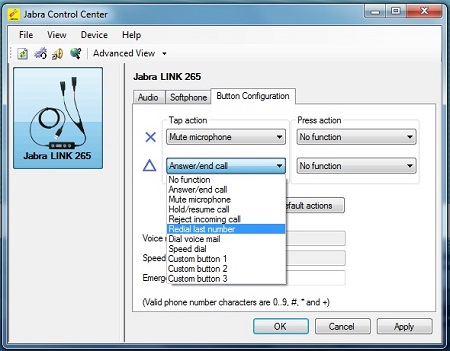 We tested the LINK 265 using Vidyo, our in-house videoconferencing solution. During the call, we transitioned from one headset live, to two, and then back to one. The process was seamless. The lighted buttons are the perfect size – not too big, nor too small. The conversation was clear and voices were easy to hear. The LINK 265 passed our test with flying colors!
This USB training Y-cord streamlines the equipment needed for your training needs; provides inline call controls with the ability to toggle the mute microphone function between both headsets; and utilizes the no-cost Jabra Direct and Jabra Xpress software. Jabra packed this training Y-cord with functionality and compatibility, making this an easy choice for training with your PC softphones.
Contact us
for more information about the LINK 265!