There were 4 posts tagged: Quick Disconnect
February 12th, 2020 • 0 Comments
Question:
What is the easiest (and most cost-effective) way to turn your existing QD (quick disconnect) headsets into USB headsets?
Answer:
Change out the bottom cable.
PC-based phones (also known as softphones) are changing the communication landscape, and companies that have been using headsets with desk phones may not realize they can keep their current headsets and use them with PCs instead. Simply with a change-out of cords, organizations can protect their headset investment. All of our brands offer QD-to-USB cables that are compatible with each of their QD headsets, and all leading brands of softphones. As a result, users can continue to leverage the benefits of their current professional headsets.
This makes it the ideal solution for contact centers that want a smooth and cost-effective transition to a Unified Communications solution.
Jabra QD-to-USB Cords
Jabra offers the Link 230, Link 260 and Link 265. The
Link 230
is simply a connecting cord; the
Link 260
includes an in-line call controller. The controller gives agents call functions at their fingertips, such as Answer/End, Mute, and volume adjustments. The Link 260 has a variant that's certified for Microsoft, too:
Link 260 MS
. The
Link 265
is unique to the market: an all-in-one USB training cord with call controls. We know of organizations that purchase the Link 265s for each agent, so the supervisor can simply connect their headset at any time during a call.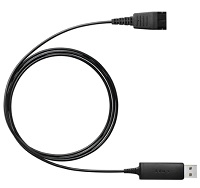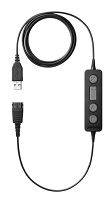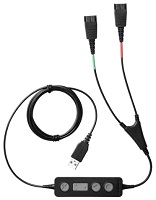 Not sure which QD-to-USB cord you need? We will find a compatible and effective solution for your unique environment. Call our headset team at 1-866-998-9991 or Chat us now!
April 11th, 2018 • 0 Comments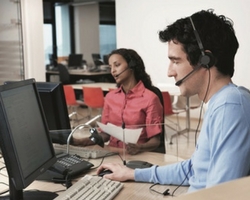 FACT:
Office professional corded headsets for traditional desk phones end in Quick Disconnect (QD).
FACT:
Quick Disconnect cables are specific to the desk phone, and to the headset manufacturer.
FACT:
A corded headset, without the QD cable, is not useable.
This means you need to have a cable that will connect your headset to the desk phone. The only time this would not be the case is a USB headset; as that will plug directly into the USB port on a PC or laptop. Each brand has its own proprietary quick disconnect cable. That means that the pin configuration is unique to each manufacturer.
A Compatibility Guide provided by the manufacturer (or a quick call to your trusted headset reseller ☺) will assist in determining the correct quick disconnect cord (sometimes called the bottom cable) for your particular phone make and model.
Our brands' Compatibility Guides are available here:
Jabra
Plantronics
Sennheiser
VXi
One thing to note about
VXi
: they are the only manufacturer that offers other brands' QD styles. They offer the VXi QD or "V," the Jabra QD, known as "G" (for GN Netcom/Jabra) and the Plantronics cables are "P" style.
We found the following online review from a competitor's website, and want you to know how important it is to Avcomm that our customers have everything they need when they receive their order and are ready to use their headset.
"You would expect a headset to be able to plug into your phone system or computer. This headset comes only with a "quick connect" component, so if you are not aware of this fact you will not be able to use it when it arrives. It is easy to make this mistake since the picture on website does not show the cord at all !! Of course you can order the other required piece at extra cost, but after waiting over 2 weeks for this lousy headphone, now I have a desk paperweight."
We work to make sure you have what you need from the start, so that you can immediately use your new headset, and it doesn't become a pricey "paperweight." (Also keep in mind that we ship in-stock orders received before 3 pm Central Time that very same day, so you won't have to wait for your headset, like this person did. If we don't have the item in stock, we notify you immediately.) And if we receive a corded headset order with no additional connection cable, you can be sure that we'll reach out to you before processing the order.
Don't let this happen to you! If you're not sure what you need, call us at 1-866-998-9991.
Additional Resource:
The Basic Guide to Buying a Corded Headset
July 14th, 2015 • 0 Comments
Managing an inventory of antiquated and obsolete headsets can prove to be a losing proposition. Customer service agents become frustrated with defective, older equipment that breaks, making their jobs more difficult. The purchase of new equipment, especially headsets, can improve morale and simplify work processes.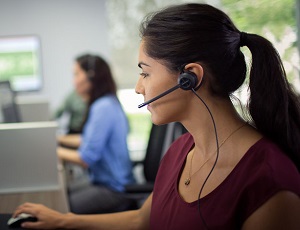 When it's time to purchase those new headsets, Plantronics has a sweet offer: buy any headset from the new and updated EncorePro series, and you receive $15 for each old headset you send in to Plantronics, up to the quantity of new headsets being purchased.
And Plantronics has made this process easier than ever, as they are providing you with the prepaid shipping label to send those old headsets in!
With four great options to choose from, the EncorePro headsets have something for every wearer and business environment. From the premium style features of the EncorePro 700 headsets, to the super-light EncorePro 530, and the complete flexibility of the EncorePro 540, the headsets feature superior noise-cancelling microphones that keep the conversation focused on the caller.
The EncorePro 500 series combines forward-looking design with comfort. High-quality custom polymers and structurally employed metals creates designs that are thoroughly robust, yet up to 22 percent lighter. Laser-welded construction and metal joints provide durability in all work place environments.
EncorePro 530
Lightest in its class, this headset is designed with wearing stability and simplicity. With a choice of two different sized soft bendable ear loops, users get all-day wearing comfort.
EncorePro 540
The unique convertible design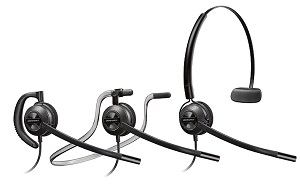 provides the choice of three easily changed wearing styles for personalized all-day comfort, without compromised performance. The patent-pending C-clip system makes switching wearing styles very easy; this headset will satisfy all user preferences!
The EncorePro 700 series is Plantronics' top-of-the-line quick disconnect headsets, designed for customer service representatives. Its distinctive design is slim and stylish with an elegant satin finish. The featherweight materials and leatherette ear pads ensure luxurious comfort, while its unique curved, telescoping microphone and pivoting boom deliver crystal-clear, private conversations.
EncorePro 710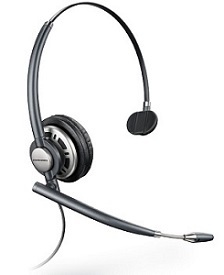 The mono ear headset helps you to keep one ear on the customer, and the other on collaboration. The mic boom arm rotates up and down, as well as out and in, for superior microphone positioning. With a unique, extendable boom arm, further positioning can be achieved. The adjustable headband and extra-padded leatherette ear cushion provide optimum comfort!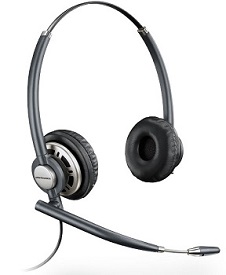 EncorePro 720
The duo ear variant provides immersive focus for improved customer interactions.
July 2nd, 2015 • 0 Comments
Much like learning to dance, buying a
headset
can be confusing and seem out of reach. By breaking down the dance into steps, the overwhelming process of the 3-minute piece of music is simplified. The same is true with buying a headset. Follow these steps and the perfect headset is in your grasp – and on your desk – in short order.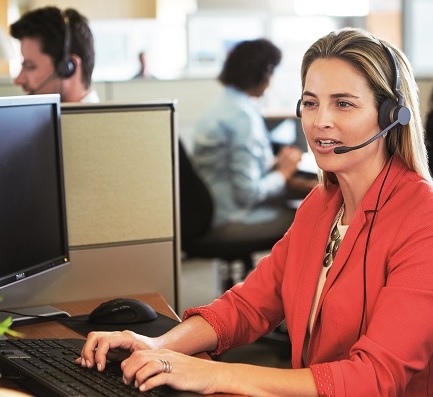 First Step:
Customization
The amount of choices and design features seem endless at first, but can be simplified to these decisions:
Wearing style (over the head, over the ear, behind the neck, convertible)


Mono or duo? How much sound do you need in order for you to concentrate on your caller rather than on everything else around you? If your work environment is noisy or busy, you might want to consider a duo style that covers both ears.


Microphone (Voice Tube, Noise Cancelling or Ultra Noise Cancelling)


Ear cushion type (foam or leatherette) and size


Weight of the headset


Connectivity – to an office phone? Computer? Mobile? Or combination?


Call control – Will you want to be able to mute your mic or volume up or down as need be?


Warranty? Most offer 2 years; some, 3. (At Avcomm, we have a 30-day money back guarantee. If an out of box failure should occur, a replacement product will be sent the day we know of the failure; just return the defective product to us using the shipping label we send out – you pay nothing).
Second Step:
Compatibility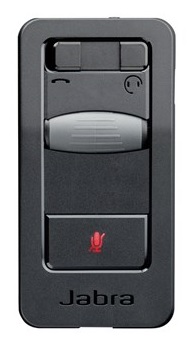 Which quick disconnect cord or amplifier do I need? How do I choose?
An amplifier provides added volume and control, allowing you to mute and adjust your volume control as you need. Batteries or USB cords give power to amplifiers, unless you purchase an AC adapter. The cost of an amplifier (typically around $100) is higher than the direct connect cord (between $20-40).
With the quick disconnect option, the wearer can keep the headset on, while stepping away from the desk,

because they are simply disconnecting the headset from the bottom cable. These quick disconnect cords are unique to each manufacturer, so you must buy the same brand headset and cord.
Each manufacturer offers a helpful compatibility guide to help determine if an amplifier is needed for your environment.
Jabra Compatibility Guide
Plantronics Compatibility Guide
Sennheiser Compatibility Guide
VXi Compatibility Guide
We are also happy to help answer any questions regarding compatibility.
Third Step:
Cost
How much am I willing to spend?
You can get more features, added durability and extended warranty with a larger initial investment. Decide which features are of utmost importance. Any of the options that Avcomm Solutions offers are commercial grade headsets – the quality is better than the $15 plug-and-play options you have seen in the office supply stores.
Bulk purchases can produce big discounts, as well as consistent, recurring orders can merit special pricing.
Fourth Step:
Contact us!
Every work environment is unique and we are prepared to tailor a solution that best fits your needs. You can call us at 1-866-998-9991 (M-F 8:30 a.m.-5 p.m. Central Time), or connect with us on Twitter (
@AvcommSolutions
) and we will be happy to walk you through the tried and true steps of choosing the right headsets for your environment!