October 21st, 2013 • 0 Comments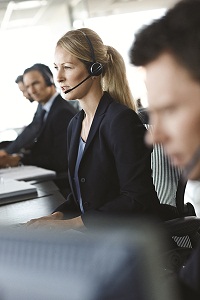 The professional contact center defines a customer's perception of your company and is a key component to company success. Your agents are the first, and sometimes only, contact your customers have with your business! There is no greater frustration for a customer than calling a business with a quick question or complaint – only to find the contact center agent is unknowledgeable, unhelpful or difficult to understand. If the agent works in a noisy center and the customer can hear conversations in the background, the impression of an amateur organization is made.
You can virtually eliminate background noise in your contact center with the 3 E's:
Environment, Expectation and Equipment
.

Josh Reeves, CEO of Entero Solutions
(a BPO consulting firm), has worked in the contact center industry since 1999. He shared some valuable insights into structuring a professional (and quiet) contact center.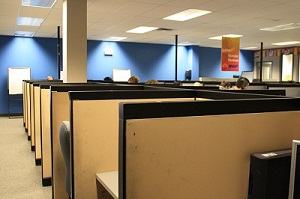 Environment
Make sure there is plenty of space between agents! Reeves suggests that alternating agents by their tasks helps: alternate voice products, live chat, e-mail callbacks, and order entry, so that not all agents who work primarily on the phone are grouped together. When building the center, think about noise-controlling features from top to bottom: egg carton acoustic foam pieces in higher ceilings, as well as sound absorbing ceiling tiles. On the walls, designs can be created with sound absorbing fabric. Cubicle partitions can be made with those same fabrics and partitions can be built taller so agents aren't directly looking at each other. For the floors, carpet works best to trap sound.


Expectation
Maintaining near-silence on the call floor, outside of calls, is important. If you think of this as "library quiet" you've got the right idea! Employees should have the expectation that chatting with each other between calls is kept to a minimum. Visitors to the contact center should be made aware of the quiet policy, and signs posted throughout the center are effective reminders of being mindful of noise levels.

Customers, too, have expectations. They trust your company with their personal and confidential information and presume that they will speak one-on-one with your company's representative. This trust can soon be lost if the customer is able to hear other conversations in the background. Reps who speak over your customers because they are unable to hear the phone conversation, also lose the trust of your customers.


Equipment
Reeves advises centers to "give agents the best equipment possible to get the results you're looking for." Two-ear (duo) headsets with noise-cancelling microphones are the best choice, says Reeves: "They (agents) can hear really well, and in turn, not have to speak as loud. They can maintain focus on the customer they are working with."


Noise cancelling is defined as the microphone design that greatly reduces the background noise so that the conversation is between your rep and the customer, without the sounds of your center coming through. Compare this to voice tube microphones, which do not offer any sound cancelling properties.

Additionally, ultra noise-cancelling offers enhanced noise-cancelling properties which carry your employees' voices so they can speak at normal, professional levels and still be heard by your customers. These microphones are best for the loudest contact centers, particularly outbound centers. The enhanced noise-cancelling microphones keep the background noises from disrupting conversations – essential to maintaining a professional contact center image.
Sennheiser's exclusive noise reduction technology, Adaptive Intelligence™, uses a complex digital signal processor to eliminate incoming and outgoing noise automatically, all while preserving the speech of the using parties. When moving from one dynamic noise environment to the other, the headset automatically compensates according to the unique environment and the users' preferences.

Amplifiers play a role as well. These
sound management devices
detect when the agent is not talking, and automatically lowers the microphone signal reducing outgoing background noise. The caller experiences a quiet pause rather than annoying background chatter! An amplifier quiets the line from the noises, crackles and background hisses, and offers hearing protection from the sometimes loud sound spikes that occur during calls. For less than $100, amplifiers make an inexpensive addition to the total sound package.
Reeves also suggests checking into warranties for the headsets. "I think it's important when getting your headsets that they have a good warranty because they're used, in some cases, 24 hours a day," says Reeves.
Jabra
,
Plantronics
and
Sennheiser
all offer at least a 2-year warranty for their corded headsets.
When all three keys have been effectively implemented – Environment, Expectation and Equipment – a quiet, professional contact center is the result. Your customer, and your employees, deserve nothing less than the best!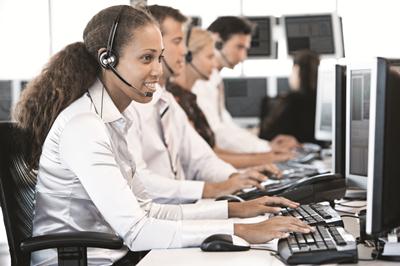 October 4th, 2013 • 0 Comments
Sound familiar? These complaints are the cry of office workers who spend 8 hours a day, 5 days a week, at their desks: facing computer screens, typing on keyboards, and answering phone calls. Other complaints include headaches, eye strain, and wrist pain. That achy, overtired feeling is real - not imagined - and should not be ignored. The science of ergonomics seeks to find the "sweet spot" between humans and machines to make working comfortable and efficient.

Work Hurts?
The value of an ergonomically-correct environment cannot be overstated! Companies that offer ergonomics committees, training sessions and simple tools to assist their workers provide benefits that may not carry a huge pricetag (
OSHA
estimates approximately $250 per worker), yet can pay big dividends.
Comfortable workers equals superior efficiency and productivity.
According to Cami Knust, Licensed Physical Therapist at Memorial Physical Therapy in Aurora, NE, "having an efficient work station set-up is important in helping to
reduce the amount of stress that can be placed on our bodies when we are sitting at a desk.
It's important to consider proper chair height and support, proper keyboard and monitor placement, as well as proper phone placement to minimize twisting and reaching across your desk."
Headsets are an integral piece to the ergonomics puzzle. When the communication moves to the headset, the user becomes the
center of the activity,
which effectively increases their range of motion.
Take a look at the
study
conducted by
Jabra
regarding the use of headsets in an office environment: Researchers found that workers using a telephone handset – holding the phone between the neck and shoulder while operating a computer – for several hours every day, experience restrained movement and strenuous posturing when multitasking. After going hands-free with a
headset
,
52 percent of the participants experienced massive improvement
and
26 percent said their work-related pain completely disappeared!
Did you know that October is National Ergonomics Month? Let's Celebrate!
We're giving away a
Jabra PRO9450 Flex Wireless Headset System
! Simply enter your contact information
here
and include one sentence within the "comments" section telling us how a wireless headset would increase your efficiency at work! Multiple entries will not be considered. Drawing will be held Nov. 1st and winner will be notified at that time.
To Shrug or Not to Shrug
Watch this fun 2-minute video for some basic tips on staying healthy at work:
Commit to implementing an ergonomics plan so that when you leave work each day, you have energy for the rest of your life!
Follow us:
@AvcommSolutions
and
LinkedIn